US-based Citigroup launched its direct custody and clearing securities services in Viet Nam on February 28, 2006.
Citigroup's Global Transaction Services is the provider of the services in the country, where Citigroup has been present since 1993 and is operating two branches in Ha Noi and Ho Chi Minh City.
"Our goal is to remain the premium provider of the services across Asia-Pacific," Ms. Margaret Dawson, the supplier's Asia Pacific Region Head of Securities Services, told the service launching ceremony in Ha Noi.
Citigroup is a corporate and investment bank operating in many countries around the world.
The Vietnamese stock market has 36 listed companies and is supervised by the State Securities Commission. Nguyen Doan Hung, the commission's Vice Chairman says for securities markets to run efficiently, financial intermediaries and supporting institutions like custodians and depository members have very important roles to play.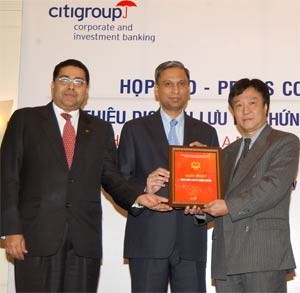 Nguyen Doan Hung (R) presents the service license to Citigroup representatives at the service launching (Photo: Courtesy of Citigroup)