Many Chinese traders have flocked to the Mekong Delta province of Ben Tre to buy large amount of coconuts from Vietnamese dealers although it is not season now.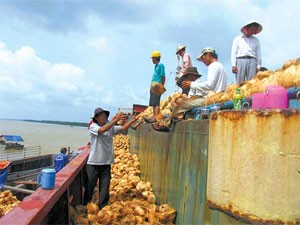 Coconuts are loaded on a boat (Photo:SGTT)
There are around nine ships of Chinese traders gathering at the Ham Luong River – the section in Ben Tre Province – to look for coconuts from 9am every day.
Hoang, a Chinese trader who has 20-year experience in trading agricultural products in Vietnam, said each ship could contain on average 1.5 million coconuts after around ten days of buying.
The ships would then head to Quang Ninh Province to make transit declaration to travel back to Hainan province's Hoikow port in China.
"Coconuts will be processed in our factory. Coconut juice will be used to make jelly and beverage, while coconut meat will be main material for sweets," said A Van, a Chinese trader.
Vietnamese and Chinese coconut cost the same, but the former is bigger, with sweeter smell, he said.
Keo, a Vietnamese coconut suppliers who has a large number of Chinese customers, said he earned a commission of VND50 on each sale he made. A coconut costs around VND10,200-10,300 (about half of US$1), Keo said.
"I take buying orders before contacting to local traders to prepare the orders for me," he said, adding Chinese partners also asked local suppliers like him to take care of legal documents, such as tax declaration.
Sang, a local coconut trader who have done business with the Chinese for more than ten years, says she favors the Chinese buyers over local ones as the foreign partners always place regular orders.
"Twelve coconuts cost VND25,000-30,000 in the last several years. But the cost now soars to VND120,000-130,000 and the supply usually cannot meet the demand," Sang says, adding she receives orders from Chinese traders every day.
Local coconut processing plants are also earning big time from China's heavy buying. Thai Minh Phuoc, owner of a coconut processing plant, says Chinese traders buy not only coconuts, but they look for coconut fiber and even charcoal also.
Cost of coconut coir, which locals considered as trash earlier, is surging on the rising demand of China's carpet and mattress producers. Phuoc says.
"It takes 7,200 coconuts to produce a ton of coconut coir, which costs around $370," he says.
Diep Kinh Tan, deputy minister of agriculture and rural development, said in an interview with the news media that Chinese traders' heavy agricultural product buying was normal.
However, Tan warned some even bought poor-quality products, derailing Vietnam's efforts to supervise agricultural products export and domestic consumption.