In the first six months of the year, Lang Son Customs coordinated with other organizations to crack 140 smuggling cases worth VND4 billion (US$228,000), said Nong Van Vinh, deputy head of the province's Customs Department, recently.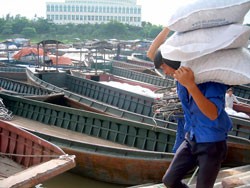 A porter transports Chinese smuggled goods through Mong Cai border gate in the northern province of Quang Ninh(Photo: SGGP)
However, it is a very small number compared with the number of Chinese goods smuggled into Vietnam, he added.
Tran Van Nghia, deputy head of the Customs Office at Tan Thanh Border Gate said that just in Tan Thanh alone, there are over 1,000 porters transporting goods through the frontier.
From Tan Thanh to Mong Cai in Quang Ninh, people could see a wide spread of Chinese goods.
Seventy-four smuggling cases were discovered in Mong Cai in the first half of the year, Nguyen Tuan, deputy head of the Customs Office at the border gate said.
Sophisticated tricks
Nguyen Viet Khoa from an anti-smuggling team in Mong Cai town, Quang Ninh Province, said that the team is small, just ten officials cover an area with a radius of ten kilometers.
Meanwhile, smugglers are coming up with sophisticated tricks, making it even harder to prevent them.
Smugglers also set up a group of people who are trained to follow and obstruct the anti-smuggling force.
Mr Khoa said that porters usually throw goods into the river when they are stopped by officials.
A lot of staff on his team have also received threatening letters.
During the time at Mong Cai, SGGP reporters met a smuggler named Trieu Van Bac, who said that he can organize transportation for over 30 tons of clothes into Vietnam a day.
To take clothes, worth VND10 million, into Vietnam, he has to spend 50 percent of that money on officials, 30 percent for porters and enjoys just 20 percent as profit.
Quality of Chinese goods
Vietnamese consumers have ignored a mass of Chinese goods scandals.
For example, toothpastes, called Excel and Mr. Cool, contained diethylene glycol (DEG), which were 50 times higher than the permitted content in 2007.
In another scandal, it was found that some Chinese toys had been made from noxious chemicals, milk with melamine and most recently the case of children clothes having formaldehyde.
According to Tran Van Thien, deputy director of Bibica Corporation said that Chinese goods are usually sold without packing and Vietnamese labels, making it harder to know which materials have been used.
Huynh Van Khanh, general director of Ky Thuat Moi – an electronics supplier, said that his company would continue to compete with smuggled goods by enhancing the quality of products and prestige.
He would like Vietnamese to buy domestic goods to contribute in pushing smuggled goods back.
Related articles:
Vietnam flooded with smuggled Chinese goods
Smuggled Chinese goods leave domestic products behind