An increasing number of Chinese traders are taking tons of sweet potatoes from the Mekong Delta province of Vinh Long every day, from fields hired and cared by local residents.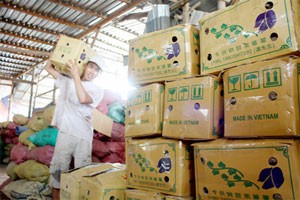 A man carries a sweet potato parcel with Chinese labels in a warehouse in Vinh Long Province
Doan Ngoc Chien, head of Vinh Long Department of Natural Resources and Environment (DNRE), says "Only the chairman of the province people's committee can give approval to let foreigners rent land in the province."
"Chinese traders, meanwhile, used many different tricks to farm sweet potatoes in the province," Chien says.
Reports from the economic department of the province's Binh Minh District shows that sweet potatoes have been packaged up and labeled in Chinese, which violated Vietnam's law. 
The traders have rented large fields for cultivation and built up warehouses, under the names of local residents.
Figures from the department also shows that 19 Chinese traders have rented an area of over 3,400 square meters in the district to build 10 warehouses.
They have also hired more than 480 local residents and paid them VND10,000-15,000 (less than US$1) per hour to work at the warehouses.
Binh Minh District in the province is very famous for sweet potatoes.
More than 46 hectares in Thuan An Commune of Binh Minh District have been leased to plant sweet potato, with an annual rent of VND35 million per hectare.
They pay locals VND80,000-120,000 per day to take care of the farming fields.
Phan Thi Be, head of the district's economic department, says "Most Chinese traders have had locals hire land for warehouse at an annual rent of VND10 million (US$500) for 500 square meters."
"Around five trucks of 35 tons carry sweet potatoes from local fields to China every day," Be says.
However, local farmers are at risk of heavy losses as the price of the root will definitely slump if the foreign traders stop buying, she warns.
Unlabeled agriculture remedies
Nguyen Van Liem, the province's DNRE deputy director, says the province's authorities have checked on sweet potatoes farms and found unlabeled agriculture chemicals and fertilizers.
Chien says using unlabeled agricultural remedies will likely to damage the province's entire sweet potato cultivation and pollute the environment.
Most of Chinese traders have violated the Vietnamese law as they have hired more than 10 local employees without business license.
In an effort to stop the activity, Vinh Long Department of Agriculture and Rural Development says it will ask the local plant protection department to check on sweet potato fields of Chinese traders.
Nguyen Van Diep, chairman of Vinh Long People's Committee, says local sweet potato has relied too much on China's market.
Diep encourages farmers to enter other foreign markets including Singapore, Malaysia, Laos and Cambodia.