Five central provinces and cities – Thua Thien-Hue, Da Nang, Quang Nam, Quang Ngai and Binh Dinh – and the Ministry of Industry and Trade March 20 signed a commitment on cooperation to develop the key central economic region.
 
The signing, which took place at a forum themed "New Opportunities for Prosperity", was held in Quang Ngai Province by provincial People's Committees and the Ministry of Industry and Trade.
The event focused on four main topics: traffic infrastructure development; cooperation between central provinces; a new model for organization of the zone; and policies to be applied for the zone.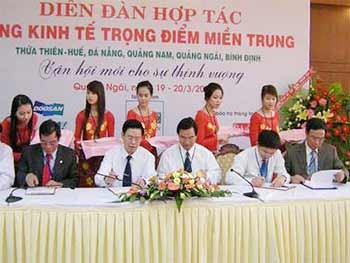 The signing ceremony for cooperation between five central provinces and the Ministry of Industry and Trade at a forum on March 20 in Quang Ngai Province. (Photo: NLD)
Deputy Minister of Industry and Trade Le Danh Vinh said the forum provides a platform for provinces and cities to work out policies for key projects and long-term cooperation among the provinces in the region.

Fifteen reports were presented at the forum that focused on planning and development of transport infrastructure; building a cooperative and connected community; establishing a strong business community; and creating an organizational model for the central key economic region.

Speaking at the forum, Nguyen Xuan Hue, chairman of the Quang Ngai provincial People's Committee, emphasized boosting cooperation between regional provinces, considering it a crucial factor for the region's sustainable development.
The region, he said, needs more investment in infrastructure and traffic systems to create more opportunities for integration and development.

"I hope that this forum will reach a mutual agreement on cooperation programs and propose specific policies needed for such cooperation to the Politburo and the Government for consideration," he said.

At the end of the forum, the representative of the ministry and leaders from the five provinces and cities signed a 7-point cooperative agreement based on a development planning passed the Government.

The key central economic region, with 558 km of coastline, includes the five provinces and cities and its modern urban areas - like Hue, Da Nang, Hoi An, Tam Ky, Quang Ngai and Quy Nhon, and economic zones such as Chan May-Lang Co, Chu Lai, Dung Quat and Nhon Hoi - have great potential for development.

The region covers nearly 28,000 square kilometers, makes up one-fifth of the country's length, is home to 6.5 million people, and has an average annual GDP growth of 10.6-11.5 percent. However, the region is frequently hit by natural disasters, hampering its development.