A rubber latex processing plant was inaugurated in the Central Highlands province of Gia Lai on July 18, said local authorities.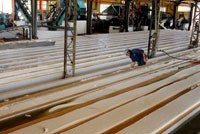 A worker of the Chu Pa Rubber Co in Gia Lai Province processes rubber latex.
The No.4 rubber latex processing plant is owned by 715 Company of 15 Army Corps.
The plant covers five hectares, with a total investment of VND40 billion and an estimated capacity of 4,000 tons of rubber latex per year.
The plant is expected to help create jobs for more than 300 workers who are major ethnic minority in the local region.
This is one of the big plants and most modern rubber latex processing plant in the Central Highland area.
Rubber cultivation in the country is focused in five major regions - the southeast region, the Central Highlands region, the southern central coastal region, the northern central region and northwest provinces.
The Central Highlands is home to around 100,000 hectares of rubber trees, including 60,000 hectares in Gia Lai, which has become an area with the largest new rubber plantations
China is a big rubber export market for Vietnam, consuming 70 percent of its total rubber latex output every year.