In the meeting about cashew, chairman of the Vietnam Cashew Association (Vinacas) nguyen Duc Thanh said that cashew export turnover is likely to reach US$3 billion this year, an increase of US$500 million compared to last year.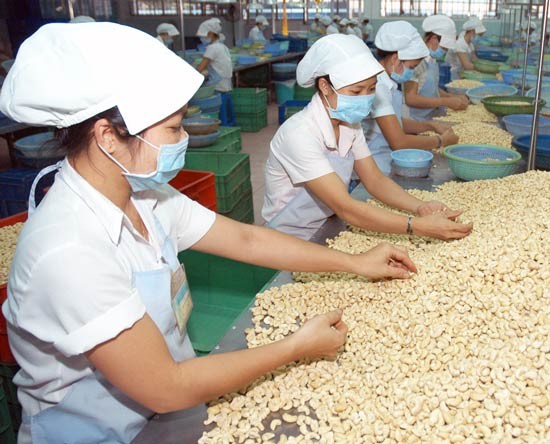 Processing raw cashew in a factory (Photo: SGGP)
The quantity of cashew for export this year is over 300,000 tons plus increased price pushed export turnover to US$3 billion. Vietnamese cashew accounts for 50 percent of the total in the world. In the meeting, half of 300 participants are representatives from foreign companies including these nations importing much Vietnamese cashew.
The meeting was convened when the price of cashew increased from US$1,300 per ton in June to US$2,250 in September. Mr. Thanh explained that climate change reduced cashew quantity in Vietnam and Africa while the number of consumers increased.
Though being a biggest cashew exporter in the world, Vietnam must import around one million tons of raw cashew from African nations, from Indonesia and Cambodia. Vinacas representative said that because Vietnam import cashew from other countries, it hardly controls quality and food safety.
Bach Khanh Nhut, a member of the VINACAS executive board and deputy general director of Vinacontrol, said the quality of raw cashew nuts imported from African countries dramatically reduced compared to last year. additionally, some sellers still supplied low-quality products, including sprouted and deformed nuts with rot, decay, mould and old cashew, which caused serious losses to Vietnamese buyers.
Mr. Nhut said that moisture plays a decisive role in preservation and storing cashew and directly influence to quality after processing. Consequently, Vietnamese exporter violated the contract destroying the sector image in the world market.
Joseph Lang, managing director of Kenkko House, one of Europe's largest dealers of nuts and dried fruits, said at the meeting that around 30 percent of products in Port of Rotterdam, the largest port in Europe, are contaminated with bacteria. 95 percent of consumers in Europe require transparent information of the products including processing; 62 percent of consumers want to know whether products contain harmful substances and 51 percent of people want to know nutritional value; accordingly both Vietnam and Africa should discuss for sustainable development.
As per the Ministry of Agriculture and Rural Development, by end of October, 290,000 tons of cashew were exported earning US$2.3 billion, an increase of 5.5 percent on quantity and 16. 4 percent of value compared to last year.
It is forecast that in 2016 the sector process 1.4 million tons of cashew exporting over 300,000 tons accordingly the sector can earn US$3 billion. Vietnam is still holding 50 percent of the market share in the world.