The Government is hoping to squeeze car imports to reduce the galloping trade gap but its policies and their implementation have been chaotic, auto importers say, and are pushing them into a corner.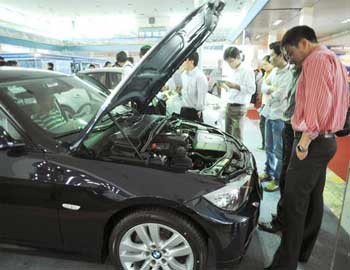 Customers inspect cars at an auto shop in Vietnam
The Government has hiked import tariffs and tightened customs procedures.
 
An importer said that as a result customs clearance has become tortuous and takes longer, requiring enterprises to spend money, energy, and time.
 
The new policy of having fixed prices for vehicles irrespective of the features loaded in them for calculating tax is unfair, importers complain.
 
In many cases they order for a certain make of car but with fewer features at lower prices. But when the vehicle lands in the country, they still have to pay the tax on a higher value since the prices are set in stone.
 
Many importers claim they face financial ruin and even bankruptcy due to the opaque nature of the policies and their arbitrary implementation.
 
For instance, back taxes are collected after cars are already sold. In such cases they are out of pocket since they can no longer ask the buyers to bear the tax.
 
An importer, who has imported cars worth tens of billions of dong (VND 1 billion = US$51,300), is on the horns of a dilemma since they have not been customs cleared yet: Should he pay the huge import duty and collect them or let them remain in the customs warehouse?
 
Importers have also been dealt a heavy blow by the Government's devaluation of the dong earlier this month, causing a rise in car prices at a time when the market was already depressed.
 
Impacts
 
According to the General Department of Customs, only 4,409 cars worth $95.5 million were imported in July.
 
In the first seven months 26,935 vehicles worth $494 million were imported, 17.7 percent and 6.8 percent lower year on year in volume and value terms.
 
Importers blamed the fall on the Government's polices.
 
With import duties being raised by 2-20 percent and the stronger dollar, the price of a car has risen by VND10 million at a minimum.
 
Another factor affecting car sales is banks' move to cut back on lending for buying cars.
 
Importers say while they understand the need for duties, official agencies need to be clear and unambiguous while announcing policies and understand them thoroughly when implementing them.
 
They have urged the Government to review its tariff policies for local carmakers and assemblers and importers to create a level playing field for all of them.