Ever since the Ministry of Industry and Trade issued Circular No.20 regulating new procedures for passenger cars of less than 10 seats, many car importers have shut shop while consumers are paying sky high prices for cars.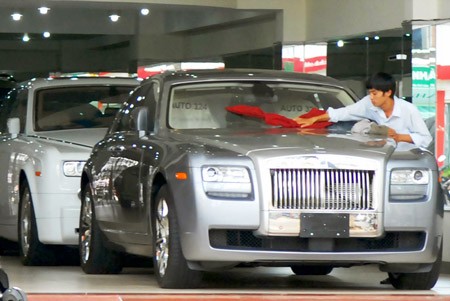 A car showroom in District 5, Ho Chi Minh City (Photo: SGGP)
According to the circular, effective June 26 this year, importers of passenger vehicles of nine seats or less must submit some more papers to an authorized State agency to complete import procedures.
Unauthorized auto importers who have thousands of showrooms nationwide told Saigon Times that the ministry's Circular would force numerous car importers to go bankrupt because they will find it difficult to obtain all the documents as required.
Going out of business
Five days after the circular took effect, the car market began to fluctuate.
Many shops selling imported cars on Tran Hung Dao, An Duong Vuong, Cong Hoa, Hoang Van Thu, Dien Bien Phu and Phan Van Tri Streets have shut and only a few continue to operate. 
Nguyen Manh Quan, a salesman in an auto showroom on Tran Hung Dao Street in District 1, said about five showrooms have closed down within a month.
Quan said some dealers have maintained their business by merging with others, while other car companies have had to dissolve or commission other dealers to sell their unsold cars.
The dissolved companies have only few cars and with the new regulation they have no opportunity to import cars. Therefore, if they continue they will suffer losses mostly from overheads like rent and salaries.
Quan added that his showroom had displayed many brands of cars because it had agreed to sell 20 automobiles of 4 and 7 seats for other companies that have now shut down.
After selling all their stock of imported cars, if dealers still want to continue their car business and are unable to meet the new regulation, they will have to sell cars bought from joint venture firms in future.
Automobile prices go up
Automobile prices began to rise last week, about US$400-1,000 per unit. The price hike is mostly on cars imported from Japan, South Korea and the United States.
For instance, Toyota Camry 2.4 LE soared to US$58,000 from US$55,000, while Toyota Corolla LE 1.8 went for US$48,000, up by US$6,000.
According to car importers, car prices have increased because there won't be many cars imported now, as importers have fewer cars to sell till the end of the year.
With the new regulation aimed to limit the import of cars, customers will have to buy cars at high prices with limited options to choose from in terms of quality and design.
Nguyen Hoang Trung from Binh Phu Automobile Company said the new regulation benefits only company members of the Vietnam Automobile Manufacturers' Association (VAMA) while it strangles car importers and limits users' options.
He showed proof that the same kind of Yaris car valued at US$32,000, if customers buy from importers they will get a 5-seat car imported from Japan with full options. If they buy from VAMA members, they will get a 4-seat car imported from Thailand without options like car seats without the cushions.
Who benefits from new regulation?
The circular is meant to protect consumers' interests, limit trade deficit and ensure public transport safety. However, consumer interests have not been considered as import of cars will not be fully restrained, because most VAMA members will act as representatives for foreign automobile firms.
Not to mention that the total value of parts which are imported for assembling cars domestically are higher than the total value of imported cars.
Car experts say that the country's demand for cars has increased so it will be hard to limit the import of cars totally. Conversely, the limitations set will inconvenience consumers and the local car industry.
A number of car importers have met to discuss the new regulation and have decided to petition the Ministry of Industry and Trade and the Ministry of Justice, requesting the new regulation be revised.