Car importers face an imminent threat of closing down their businesses, with the implementation of new stricter regulations on car imports, increase in import tariffs on used cars and the expected 20 percent rise in registration tax by August.
 
According to Circular 20 sent by the Ministry of Industry and Trade, for import of new cars, dealers must have either one of the following documents:  authorization of a genuine manufacturer, authorized agent contract approved by Vietnamese diplomatic missions in related countries and warranty and maintenance certificates issued by the Ministry of Transport.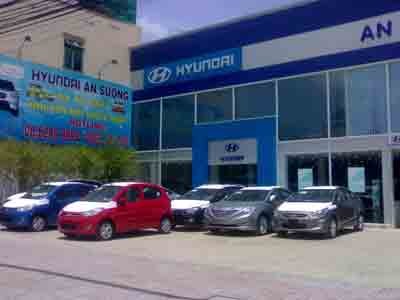 Many automobile importers face threat of closure under the new stricter regulations and increase in import tariffs ( Photo:Kim Chi)
Many automobile importers having contracts signed before the regulatory date have sent requests to the Ministry of Industry and Trade with no response as yet. Nguyen Thanh Bien, deputy minister of the above Ministry said that officials are checking all related receipts and documents and hence unable to reply.
Nguyen Chi Trung, owner of a used car salon on Le Van Luong Street in Hanoi, said that additional papers required under Circular 20 were challenges as unauthorized car dealers cannot sell established brands like  Mercedes-Benz, Audi, BMW, Toyota, Ford, Nissan, Hyundai and Kia who have their own official distributors in Vietnam.  As a result, unauthorized car dealers may have to shut shop or declare bankruptcy, placing the market in the hands of local automobile assembly manufacturers.
The only market that unauthorized automobile dealers can function in is the used car market. Though this too does not seem practical since only a month ago the government decided to increase import tariffs on used cars, with the exception of two cylinder ones less than 1liter or 1.5 liter (taxed US$3,500 and US$8,000 respectively).
Accordingly, nine seater cars below 1.5-2.5 liter capacity are under the same import tariff as a new model with $5,000 tax. The 2.5 liter or more capacity car has an added $15,000 tax.
The luxury line of cars such as Maybach, Rolls Royce, Bentley, Audi, Lexus, BMW and Mercedes-Benz sell at a much higher and sometimes unacceptable price from $50,000-500,000 after tax.
Under the circumstances, unauthorized car dealers such as Nguyen Duc Nam, director of automobile salon Nhat Anh on Cau Giay Street in Hanoi has no option but to switch to used car selling which does not have a significant profit margin, after the tax rise expected on August 15.
Adding to the already problematic automobile market, the government has just announced a 20 percent rise in registration tax effective September 1.
Many customers are now concerned whether they can make a deal before September 1 or not and whether they will have to pay more.
Data from Vietnam Automobile Manufacturers' Association on July 9 showed that the total number of cars sold in June was 7,611, only 50 cars fewer than in May. The numbers of MUV and tourist cars sold in June were 1,389 and 2,871 respectively, which are 107 and 666 cars more than in May.
According to the General Statistics Office of Vietnam, the total number of imported cars in June were 4,800 (worth US$225 million), 500 cars less than in May. However, the quantity of nine seater cars increased drastically as dealers raced to import cars before the closure date of June 26.
According to economic experts, from July onwards, the number of cars imported into Vietnam will decrease considerably due to the new Government rules and the increase in registration tax. Only towards the end of the year will the market become buoyant again.