The European Commission lifted anti-dumping duties on Vietnamese bicycles in July while maintaining them on Chinese products, giving Vietnamese exporters a fresh opportunity to grab a share of the European market.

But the companies are not sure they can take advantage of this unless they can enjoy the Generalized System of Preferences which will mean just a 3.5 percent tariff.

Before the EU slapped the anti-dumping duty on bicycles imported from Vietnam in 2005, the companies were exporting 1.1 million bicycles a year to the market every year. But the 34.5 percent tax saw that plummet to 21,000 last year.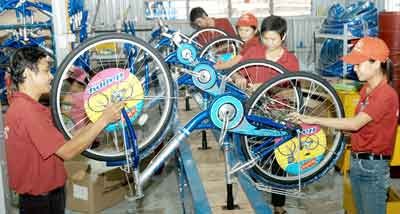 Workers of Cho Lon Company are making finished bicyle (Photo: SGGP)
Chau Vinh Chi, sale manager of Asama Yu Jiun, one of Vietnam's leading bicycle manufacturers, explained that the country does not enjoy GSP status any more since bicycles are now classified as a sensitive product (Under a new system, non-sensitive products are granted complete exemption of duties, others are bundled in one group of sensitive products).

His company, which used to export 400,000 bicycles a year to the EU before being hit by the tariffs, will achieve similar numbers in just three months and not a year as predicted by the Ministry of Industry and Trade if Vietnam can enjoy GSP tariffs, he said.

Vu Ba Phu of the Competition Authority explained that Vietnamese makers enjoyed an advantage over their competitors in the region since the country make 75 percent of all bicycle parts and labour is relatively cheap.

But if businesses have their eyes on the GSP, the ministry fears the anti-dumping duties could be revived imposed by the EU within six months if Vietnam fails to prevent illegal export of bicycles through its territory by other countries to enjoy lower taxes.

To preclude this, the Competition Authority and the Vietnam Chamber of Commerce and Industry are working on a number of measures to stop such tax evasion.

These include urging firms not to accept outsourcing contracts from dubious companies.
Provincial investment departments will be told to grant licences only to businesses that can prove their production capability, a measure that Phu said can prevent Vietnam from getting involved in a lawsuit.


There are three ways in which bicycles are illegally exported through Vietnam by other countries to enjoy low import taxes: creating fake certificates of origin (C/O); importing fully-assembled bikes and then packaging them with a 'Made in Vietnam' label; and investing in a basic factory in Vietnam to import all parts from another country, assemble bicycles, and obtain a Vietnamese C/O.