Companies and business associations should make more efforts to bolster the role of the business sector in the fight against corruption, heard a workshop held in Ho Chi Minh City August 27.
Mr. Doan Duy Khuong, Vice President of the Vietnam Chamber of Commerce and Industry (VCCI), said: "The business community plays a key role in combating corruption."
Enhancing the role of the business sector in the struggle took center stage at the seminar, which was co-organized by the Integrity and Transparency in Business Initiative for Vietnam, an VCCI project, and Global Compact Network Vietnam, an initiative developed in partnership between VCCI and the United Nations in Vietnam.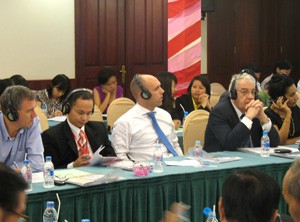 Foreign participants seen at the workshop on August 27, 2010 (Photo: Tuong Thuy)
Mr. Dinh Van Minh, deputy director of the Government Inspectorate Research Institute, said Vietnam has achieved progress over the past 20 years but it still faces many hard-to-solve challenges such as corruption.
"Corruption occurs in many sectors and levels of government, causing negative effects on many aspects of society," he said.
"Corruption causes great loss of property to the State, organizations, and people, and reduces people's trust in the Party and State.
"It is a major obstacle to social and economic development and increases the cost of doing business."
He said drastic measures need to be taken to fight against corruption in order to build a fair and prosperous society.
Mr. Minh added companies and business associations should actively participate in reviewing the State's policies and developing a healthy, corruption-free business culture.
They should improve their legal understanding so that they are more confident when work with civil authorities, having reasons to combat with corruption acts, he said.
"For example, we do not need to write to authorities that please give me this thing or something when the authorities are supposed to do it as their duty."
Ms. Nguyen Thi Lien, deputy general director of Phong Phu International Joint Stock Company, said corruption remains rife because of complicated administrative procedures.
"Although administrative procedures have improved remarkably, they are still complicated, causing inconvenience to businesses."
She said the Government, therefore, needs to continue to reform them and erase unnecessary procedures.
She also proposed that the Government should dismiss those government workers who harass enterprises and those who work with an absence of responsibility.
Participants at the workshop included representatives of Vietnamese and foreign companies.
Ms. Nguyen Thi Kieu Vien, executive director of Towards Transparency, the National Contact in Vietnam of Transparency International, introduced tools developed by her organisation to assess corruption in the private sector. The instruments include business principles to counter bribery, Transparency International self-evaluation tool, and "collaboration" tools.
Transparency International is a global coalition against corruption.