According to the Ministry of Industry and Trade, the electricity price increase of 7.5 percent from March 16 will push up production costs at businesses by 0.2-0.8 percent. However, many companies said the ministry's calculation should comprise the hike in production costs of materials for their production.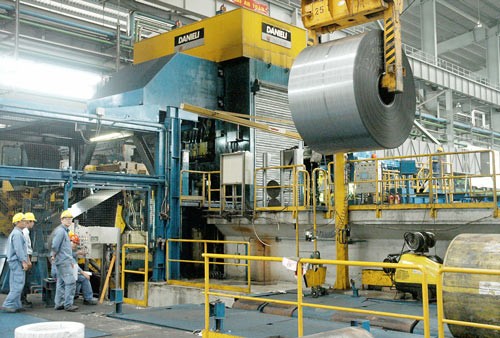 Steel companies are much affected from the electricity price increase that will start on March 16 (Photo: SGGP)
Those that will be most affected from the electricity price hike are from steel, cement, paper industries and material producers. 
According to Vietnam Steel Association, electricity accounts for 7 percent in production costs of a ton of steel billet, which consume an average of 400-600 kWh of electricity. A ton of steel needs 70-80 percent steel billets. As a result, the electricity price increase will directly impact steel production costs and the product price will be forced to surge in the time ahead. 
Mr. Le Quang Hung, director general of Saigon Garment Manufacturing Trading Joint Stock Company, said that electricity price hike will directly affect the enterprise's material supply sources. 
For instance, weaving, dying, fiber plants are consuming much energy. Electricity price raise will accelerate their production costs, bringing about higher prices of garment products. Meantime, purchasing power on the market has strongly dropped, making the affect to businesses heavier. 
Mr. Nguyen Dinh Dong, deputy director general of the Southern Rubber Industry Joint Stock Company, said that export contracts of businesses had been signed last yearend or early this year. Therefore they can not increase their prices immediately despite of power price increase. 
Material suppliers will meet with difficulties when electricity price suddenly moves up but they can not sell their materials at higher prices. 
Mr. Tran Anh Hao, official from the HCMC Department of Industry and Trade, said that the impact of up electricity price depends on production technology level of businesses. In fact, Vietnam's production technology level is low. 
A recent survey carried out by the department shows that only one percent of manufacturers in the city have advanced technologies, over 50 percent at medium level and the rest are outdated or very outdated. 
This is the main factor that will reduce the competitiveness of businesses in the market. 
The electricity price increase is necessary to prompt businesses to improve their technologies, aiming to save electricity. However the Government should minimize impacts from that to production with flexible price management, he added. 
Power prices should be edged up during dry season and cut down during rainy season. This will help businesses have more suitable production plans, he proposed. 
Deputy Head of the Central Institute for Economic Management Vo Tri Thanh said that it is suitable time for the Government to raise electricity price this month because the world petrol prices have been reducing. 
The power price increase will not result in large fluctuation in the market and can speed up investment attraction for thermal electricity, he said. 
It is unable to further exploit hydropower sources forcing the Government to develop thermal power. For the last several years, they have called on investors but the investors said that electricity purchasing prices from thermal power plants are low and unattractive. 
However the power price should be clearly and publicly calculated and increased in a suitable route so that businesses can regulate their production and business activities, he said.
Related article: