Vietnamese Litchies Exported to US, RoK
The Bac Giang Foodstuff Export Joint Stock Company said that it has recently shipped a total of 136 tons of frozen and dried litchi valued at US$146,000 to the US and the Republic of Korea (RoK).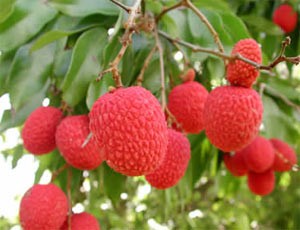 Bac Giang Province's Thieu litchies are interested by American and Chinese consumers
The company is one of the largest litchi processors in the northern province of Bac Giang. Its products include canned litchi, frozen litchi pulp, litchi juice and frozen litchi fruit.
Sources from the website www.rauquavn.vn of the Ministry of Industry and Trade showed that in the 2007 crop, Bac Giang province harvested a record 150,000 tons of Thieu litchi.
The acceleration of litchi export has helped ease growers' worry over the devaluation of litchi as a result of bumper crop.



Yantai Moon Opens 5.5 Million Plant
Yantai Moon Viet Nam, a 100 percent subsidiary of the Chinese group Yantai Moon Co Ltd, has opened its first plant in Viet Nam.
The US$5.5 million  plant, which is located in Linh Trung Industrial Park No. 3 in Tay Ninh province, specializes in the manufacture, engineering design, installation, debugging and sale of refrigeration and air conditioning equipment.
Its major products consist of air conditioning equipment for large-and medium-scale industries, centralized air conditioning equipment, cooling equipment, freezers for food, cold storage and equipment for preserving freshness.
The company has also planned a distribution and after-sales network across the country.
8,100 ha of Rubber to Be Planted in Cambodia
Tan Bien-Kampong Thom Rubber Development Company has signed a contract to lease 8,100 ha of land in Kampong Thom province of Cambodia for rubber plantation and the building of a rubber latex plant.
The contract will be valid for 70 years and is running under a cooperation program of the Vietnamese and Cambodian governments.
60 ha of rubber crops have been planted and nursery has already gone up on a 15 ha plot of land.
The project is estimated to cost VND770 billion  (US$48.1 million). Tan Bien Rubber Company contributed 51 percent of the capital, the Viet Nam Rubber Industry Corporation, 29 percent and the Song Da Corporation, 20 percent.
The Tan Bien-Kampong Thom Rubber Development Company plans to put 7,900 ha under rubber by 2010 and put a 26,000-ton latex processing plant into operation by 2023.