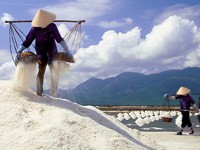 Salt field in Da Nang ( Photo T.C.)
Farmers Association in Da Nang City presented its Business Club on February 16 under the Decision issued by the Standing Committee of the city's Farmers Association.

As many as 29 farmers became full members of the club, which would be a location for small and medium enterprise leaders and successful farmers in aquaculture, agriculture, forestry or service.
All the members must have the annual income of more than VND40.
Reportedly, nearly 5,000 farmers in 2005 were voted as successful businessmen, among whom are over 500 leaders of enterprises with the average profit of over VND20 million per year.