Although domestic market has gradually warmed up, concerns still hover over building material industry due to pressure caused by cutthroat competition from foreign companies amid economic integration.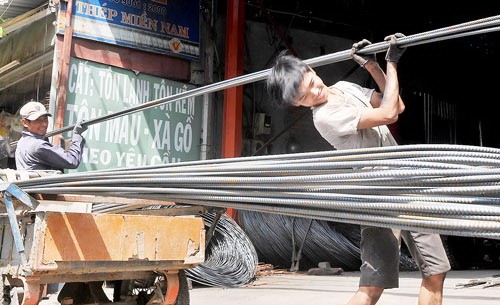 Building material market gets warmer. (Photo: SGGP)
According to building material shops in Ho Chi Minh City, purchasing power has improved in the past few months.

Tran Thi Thanh, a building material shop owner in Binh Chanh District, said that the number of customers visited her shop to buy bricks, steel, cement, and sand in the past few months increased by two times. Monthly sales of her shop was at VND100-120 million and it was VND30-40 million earlier.

Many steel companies, including Hoa Phat Group, said that in the past few months, their companies' sales rose by 50 percent.

Among building materials, steel and cement saw consumption reaching or even exceeding forecast. For instance, cement consumption touched 40 million tons in the first seven months of this year, of which, domestic consumption accounted for two third. Similarly, steel consumption exceeded 3 million tons, up 24 percent compared to the same period last year, much higher than an earlier forecast of 12 percent. However, steel industry is said to have not escaped gloomy situation yet as trade gap sharply increased over the same period last year.

According to Le Van Toi, head of the Department of Building Materials under the Ministry of Construction, real estate market gets warmer recently and will pull up construction demand. Thus, consumption of cement and steel in particular and building materials in general will climb in tandem. Noticeably, from now to year end, the prices of building materials will decline further because cheap materials from China will flood domestic market.

According to building material shop owners, along with increasing purchasing power, there are many new products at various price levels in building material market. Especially, indoor accessories, such as tiles, bathroom and restroom accessories are usually fake or with unclear origin. Prices of these products are usually two times lower than authentic ones. It is also difficult to distinguish fake products with original ones. Of late, the Vietnam Association of Building Materials warned that customers should learn carefully before buying building materials. In addition, customers should buy at trustworthy shops in order to avoid buying fake products.

Imported building materials are flowing into Vietnam, especially Chinese-made products whose prices are much cheaper than domestically-made products or products imported from other countries.
Meanwhile, control on building materials is lack of discipline so fake products can easily mix into, causing loss to local producers and consumers, said director of a bathroom accessories producer in Hoc Mon District.

Experts forecast that competition in building material market will become fiercer in the future when duty-free products from neighboring countries overflow into Vietnam. For example, data by the Vietnam Steel Association shows that steel imports from countries in the ASEAN into Vietnam already hit 43,000 tons.
At present, steel faces most cutthroat competition with foreign-made one. Similarly, domestic-made bricks and tiles also undergo strong competition from Chinese products due to nice design and cheap price. Restroom accessories from China, including bath tubs, faucets, sinks, and plastic doors are also available in the market at prices 30-40 percent cheaper than local-made ones.

Figures by the General Department of Vietnam Customs show that steel imports by August 15 hit 9.21 million tons worth US$4.83 billion. Average import unit price of steel and iron in the first seven months of 2015 dropped by 21.3 percent thus import value was at $4.47 billion, up 10.5 percent over the same period last year. Of which, Vietnam imported 5 million tons of steel from China, accounted for 60 percent of total steel imports. As for steel and iron products, the country imported $2.41 billion worth in the first seven months, up 45.5 percent year-on-year.