Seafood, livestock and chicken breeders in the Mekong Delta have never before faced such dire times or been in such crisis situations as at present, what with constant falling prices, uncontrollable diseases, and the fear of having to shut down operations in several farms due to worsening losses.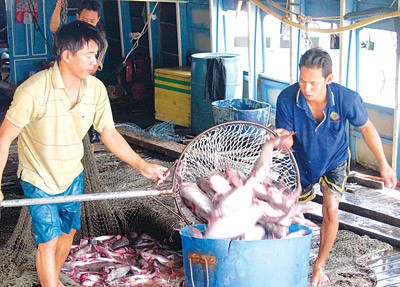 Farmers harvest pangasius fish in the Mekong Delta (Photo: SGGP)
Pig breeder Nguyen Thi Hoa in Vinh Thanh Commune in Lap Vo District of Dong Thap Province, is worried as traders are offering paltry prices, a mere VND3.3 million (US$158) a quintal for 20 pigs.
She said that breeding costs have escalated upto VND3.8-4.2 million a quintal due to increase on commodities like feed, petrol and veterinary medicines. Hoa had to even suffer a loss when she sold her last farrow.
Tran Van Tu, a breeder in Tan Phu Commune in Chau Thanh District of Dong Thap Province, said that he suffered a loss of VND20 million ($960) on 30 pigs he sold two months ago, receiving only VND3.4 million a quintal.
He still has 40 pigs for which traders are offering even lower rates.
Pangasius fish breeders are also perennially facing losses. Tran Thi Hoat, from Thot Not District in Can Tho City, said that prices swing from VND22,500-23,000 a kilogram while the cost price is still VND24,000.
Hoat recently sold 80 tons of fish at a very low price and suffered losses, and traders have not even fully paid her the money.
Nguyen Van Hung from the same district has sold 160 tons of pangasius fish at a loss of VND3,000 a kilogram. The fish breeders could not earn profits due to low prices that have refused to surge since 2011.
Meantime, diseases have killed vast crops of shrimp along coastal areas in the Mekong Delta.
More than 80 percent of 2,100 hectares of shrimp farms in Ngoc To Commune of My Xuyen District in Soc Trang Province have been completely destroyed, sending thousands of households into heavy debts, said Vo Van Choi, deputy chairman of the People's Committee in Ngoc To Commune.
According to departments of agriculture and rural development of provinces in the Mekong Delta, several households have to close their farms due to consecutive losses.
The pig herd has reduced by 30-50 percent in Dong Thap and Long An Provinces while the pangasius farming area has shrunk by 30-40 percent in the entire delta region.
Capital assistance not reaching farmers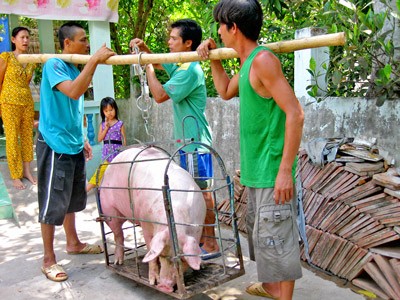 Pig breeders continue to suffer losses and cannot access bank loans (Photo: SGGP)
The Government has ordered the State Bank to instruct commercial banks to extend debt payment time-limit by one year, reduce interest rate on old loans and offer new loans at lower interest rates to seafood and livestock breeders in the Mekong Delta.
 
However, the implementation of these policies in localities has been very slow.
Le Chi Binh, deputy chairman of the An Giang Fishery Association, said that pangasius breeders have found it hard to access low interest loans from banks.
Leaders of coastal provinces also said that most of the shrimp breeders are in severe shortage of capital but banks have restricted lending.
Tran Minh Tri, from Sa Dec Town in Dong Thap Province, said that farmers were so happy with the Government policy to extend debt payment time-limit and offer new loans, but now are depressed as they still have no access and are being turned down by banks.
Nguyen Ngoc Thach, director of the State Bank in Dong Thap Province, said that they have instructed 26 credit institutions to offer loans to breeders.
The institutes have reduced interest rates for 750 businesses and 44,000 households on total loans of VND13 trillion ($624 million).
The banks are continuing to extend the debt payment time-limit and offer new loans to breeders. However the breeders must meet some criteria to receive loans.
 
Vo Ngoc Diep, director of the Bank for Industry and Trade in the province, said that loans are available to those who are able to prove their production capacity as being feasible.
Banks now give priority to large-scale breeders who practice good and sound production and consumption methods, he added.
Sharing the same view, Le Minh Duc, director of the Bank for Agriculture and Rural Development in Long An Province, said that small-scale breeders cannot tackle problems like spread of diseases and high cost prices.
He said that the breeding industry should progress towards an industrial breeding model on a larger scale with tighter management and quality control.