Germany-based Bosch, a leading global supplier of innovative technologies and services, has announced that it will double investment in its auto components plant known as the Gasoline Systems factory in the southern province of Dong Nai from US$73 million to US$132.6 million by 2015.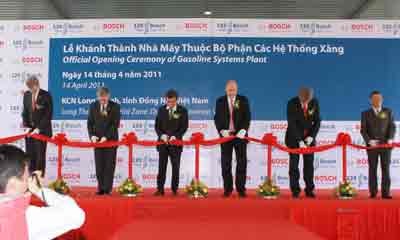 At the Inauguration of the high-tech facility for manufacturing push-belts in the southern province of Dong Nai ( Photo: Courtesy of Bosch)
The Gasoline Systems manufacturing plant produces push-belts used for Continuously Variable Transmission (CVT) in automobiles. Situated at Long Thanh Industrial Zone, Dong Nai Province and spanning over a land area of 160,000 square meters, the plant officially opened on 14 April 2011.
It will produce up to 1.6 million push-belts this year, which can be fitted into vehicles ranging from sub-compact cars to sports utility vehicles with gasoline or hybrid engines.

"We expect our production volume to double to about 3.2 million units by 2015 to support the growth of the automobile industry. That's why we decided to increase our investment to expand the current facility. By this, we will not only expand the production floor space by mid 2012, we will also be investing in new state-of-the-art equipment to further enhance the quality of the push-belts produced and we will be able to build our own components for push-belt assembly", said Mr Ryosuke Masumitsu, who succeeded Reinhard Kink as the new Plant Manager of the Gasoline Systems plant on 1 July 2011.

With more than 300 associates, the plant is currently the first hi-tech CVT Push-belt production site for Bosch in Southeast Asia, and the second of its kind for Bosch worldwide after Tilburg in the Netherlands. The increased investment sees Bosch deepening its commitment to further strengthen its operations in Vietnam.

Over the past few years, Vietnam has rapidly emerged as a manufacturing and R&D hub for Bosch in Southeast Asia. Besides the Gasoline Systems plant, the company also inaugurated the opening of Robert Bosch Engineering and Business Solutions, its first software and engineering center in Southeast Asia. Located in Etown building, Ho Chi Minh City, the new center currently employs some 70 engineers and targets to hire some 500 engineers by 2015.