Hung Vuong Ltd. yesterday commissioned a cold store able to fit 10,000 tons of food in Tan Tao Industrial Park in Ho Chi Minh City's Binh Tan District.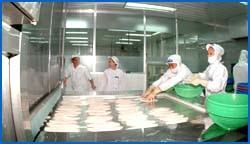 Inside a Hung Vuong Co. fish factory
What is the biggest cold store yet built in the south by a Vietnamese company is being used to preserve mainly fish but also fruit and vegetables for export and domestic sale.

Already fish exporters in Ho Chi Minh City and the Mekong Delta have rented 70 percent of the available space.

Hung Vuong, which is based in Tien Giang Province and primarily involved in catfish processing, spent VND80 billion (US$5 million) to build and equip the cold store.

The cooling equipment from Japan and Europe can automatically maintain an air temperature anywhere between plus 5 and minus 22 degrees Celsius.

Just like its new facility, Hung Vuong is the biggest fish processing company in Viet Nam's south and has three factories exporting catfish to Europe, America, Asia, Australia and the Middle East.

Since the year began, these exports have earned the company US$50 million.