The commune with the largest area of mulberry is Dam B'ri with approximately 480 hectares.

The Sericulture Research Center under the provincial Department of Agriculture was established before 1975, while the Central Silkworm Seed Farm under the Vietnam Sericulture Corporation was launched before 1975.
Bao Loc has high potential for sericulture industry development with the largest area of mulbery of more than 3,000 hectares. However, the city's sericulture industry development had spent many up and down seasons due to low quality cocoons, unstable price, weak competitiveness, weak competitive position, making businesses fell into loss.

Farmer Nguyen Van Bay said that the turnover earned from the sericulture is 3 times higher coffee planting.

Silk farming is no longer hard work with high yielding mulberry varieties and silkworm breeding providers, he added.
According to chairman of the People's Committee of Dam B'ri commune, Nguyen Van Han, mulberry is one of the species that offers the greatest economic benefits in the commune.

New mulberry varieties produce 30 tonnes of fresh leaves per year. The production of fresh cocoons reaches 2-2.5 tons per hectare. Cocoon price costs VND130,000-160,000 per kilo. Grower can attain a turnover of VND300 million/ha per year, offering 2-3 times higher than tea and coffee cultivation, said the chairman.
Currently, there are 24 silkworm breeding and silk production businesses and facilities equipped with high tech machinery and latest infrastructure in the city of Bao Loc, accounting for 75 per cent of the country's silk cocoon processing and 70 per cent of silk weaving,
According to chairman of the People's Commiteee of Bao Loc city, Nguyen Quoc Bac, the annual average production of silk in Bao Loc is 900 tons. The city exports about 3 million square meters of silk fabrics to Japan, the U.S., India, European countries, Thailand, Laos, Bangladesh and others per year,
Bao Loc's silk is well known for it high quality, but lack of product diversification, marketing and promotional campaigns.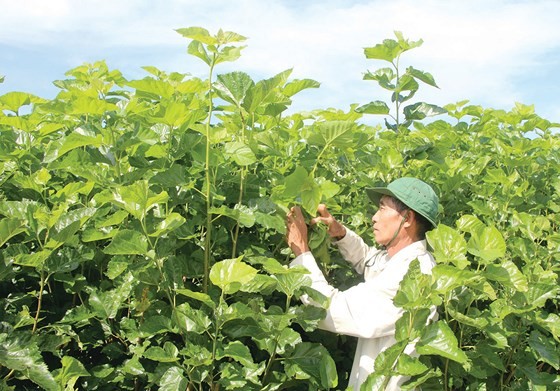 Mulberry leaf harvesting in Dam B'ri commune