US dollar is getting stronger against the dong on volatile prices of Vietnam's gold, triggering worries about a fluctuated exchange rate at yearend.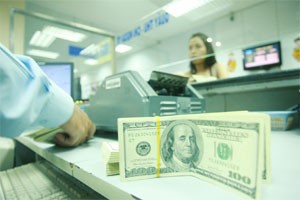 Many lenders worry that the stronger dollar will prompt to a volatile exchange rate at yearend (Photo: Minh Tri)
The dollar-dong exchange rate increased by VND10 to VND20,628 for one dollar, according to a statement on the State Bank of Vietnam on Wednesday.
Commercial banks consequently raised their exchange rate to the maximum trading band.
Large lenders including Vietcombank, Eximbank, ACB and DongA Bank announced to offer the greenback at the rate of VND20,834 per dollar.
On the free market, one dollar was traded for VND21,000 on Wednesday.
Some foreign currency exchanging shops in downtown Ho Chi Minh City sell one dollar for VND21,030, while buying at the rate of VND20,990 per dollar.
Analysts say a stronger dollar come from the fact that the state bank allows to import gold in an effort to cool the domestic price.
Lenders are buying dollar strongly to import gold, while Vietnam's gold remain much more expensive than the global one, prompting to the stronger greenback.
Yet the state bank says the dollar-dong exchange rate will remain stable for the rest of 2011 thanks to a positive foreign currency reserves.
Figures from the state bank show the country's balance of payments is expected to have a surplus of $2.5-4.5 billion this year. 
Lenders will also achieve a dollar surplus of around $3-5 billion for the rest of the year despite a 24 percent increase in dollar credit in the first seven months.
Dr. Le Xuan Nghia, vice chairman of the National Financial Supervisory Commission, says the dong is overvalued against the greenback by about 43 percent according to PPP calculation (Purchasing Power Parity).
However, the rate drops to around 23 percent according to the calculation of the dong valued/pegged against 19 foreign currencies of Vietnam's trade partners, Nghia says.
The stronger dollar triggers many lenders' worries about a volatile exchange rate at yearend, forcing them to start putting a brake on dollar lending.
Cao Sinh Tang, official from Military Bank, says banks have offered dollar loans to exporters only.
However, local businesses still favor dollar loans, which have lower interest rate than dong loans, Tang says.
"Dollar credit is still growing strongly as many enterprises expect the exchange rate will not move up by more than 5 percent for the rest of the year," says a deputy general director of Asia Commercial Bank, who asked to be unnamed.
"Therefore, to restrict dollar credit growth, lenders will have to cut rate on dong loans to 17-18.5 percent per annum."