Four state-owned commercial banks will be equitized this year at the Prime Minister's order on Thursday.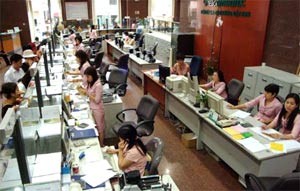 At the Vietcombank headquarters in Ha Noi, one of four state-owned commercial banks to be equitized this year
They are Bank for Foreign Trade of Viet Nam (Vietcombank), Mekong Housing Bank (MHB), Viet Nam Investment and Development Bank, and Industrial and Commercial Bank of Viet Nam.
 
The State will hold controlling shares in these banks, help them develop rapidly and enhance their competitiveness so that they still are major forces in supplying banking services and hold about 70 percent of the market share.
 
The State Bank of Viet Nam (SBV) has to finish choosing consultancy organizations for the equitization of Vietcombank and MHB by January 5 to submit to the PM for approval.
 
The PM criticized the slow pilot equitization of Vietcombank and MHB and that the renovation of state-owned commercial banks is still slower than state-owned enterprises
 
He said the SBV should strictly review its work to draw experience in the case that it has been until now unable to find a consultant for the equitization of these two banks.