Sacombank, a leading non-state bank in Viet Nam, has announced that it achieved a pre-tax profit of VND 754 billion (about US$45 million) in the first six months, a 23 percent increase compared to last year.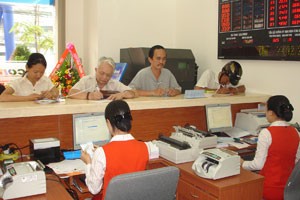 Customers carry out transactions at a branch of Sacombank in Ho Chi Minh City (Photo: Tuong Chau)
The bank's assets jumped 95 percent to VND 75 trillion (US$4.5 billion) while mobilized capital recorded a 90 percent jump to VND 64 trillion (US$3.8 billion).
Sacombank's total loans and advances stood at VND 38 trillion (US$2.3 billion), while its non-performing loans are a mere 0.23 percent compared to 0.48 percent last year.
The HCMC-based bank is developing on a sustainable growth path despite uncertainties in the economy.
Earlier this month, the bank announced that property valuation specialist Savills Vietnam Co. estimated its portfolio of 68 properties at VND 1.6 trillion (US$95 million). This is an increase of 98 percent, or VND 878 billion from their initial value. The bank's property in the North, the Central Highlands, Ho Chi Minh City and the Mekong Delta rose 35 percent, 168 percent, 73 percent and 75 percent respectively.
This valuation has highlighted the correctness of Sacombank's development during the last several years and the potential advantages of a large branch network. Sacombank has the largest network among private commercial banks. Recently, the bank received approval to set up branches in Laos and Cambodia. The bank's first international foray is an office in China.

Reported by Tuong Chau