National Assembly deputies raised 46 questions on the restructuring of banks to Governor Nguyen Van Binh of the State Bank of Vietnam (SBV) by morning of Nov 25, who stated that by 2020 the country will have 4 international standard banks.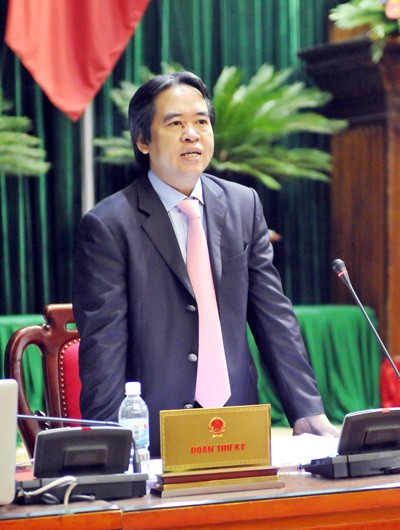 Governor Nguyen Van Binh of the State Bank of Vietnam
Earlier on the afternoon of November 24, Governor Binh answered 36 questions raised in the session. He replied to some deputies who asked the governor about the number of weak banks that needed to be strictly supervised and the bank restructuring plan.
Deputy Truong Trong Nghia from HCMC questioned Binh if in real life does discredit lead to social chaos in big banks as it does in small banks. The governor condoled with Nghia that he understood that even big banks can fall and reviving them is far too expensive and would cost much burden on the state budget. However, he assured that in Vietnam there is no potentially colossal bank like in foreign countries and the possibility of a big credit bankruptcy is negligible.
Explaining SBV measures to deal with black credit, which mobilizes credit at interest rate as high as 14 percent per year, Binh said that SBV is now tightening banking credits.  However he said that "if small banks can operate well in terms of finance, why not let them continue to run?"
Deputy Than Duc Nam from Da Nang province said that the governor had committed to cutting down on lending interest rates but many enterprises have to borrow capital at higher interest rates. The central bank set the ceiling deposit interest rate at 14 percent per year, which does not benefit banks nor enterprises but only bankers. "How will SBV solve this matter?" Nam asked.
Binh explained that the SBV maintains the ceiling deposit interest rate at 14 percent per year because this rate was designed at the end of 2010, when inflation was forecast to be 7 percent in 2011.
He said the rate was inappropriate to the situation in the January-August period of 2011 when inflation far exceeded the forecast inflation, but since August 2011 the 14 percent rate is suitable because the targeted inflation rate for 2012 is a one-digit figure.
He admitted that some enterprises have difficulty in approaching for capital, but the main reason is their weak financial ability and solvency.
Binh also received tens questions about capital for enterprises in 2012, management of the gold market, dealing with bad debts and banking restructuring orientation. He confirmed that the state will control all business of purchasing and producing gold ingots. State-run SJC Company now occupies more than 90percent of gold ingots market and in the near future SJC will be changed to SBV and under strict control of the Central bank.
He said weak banks account for around 5 percent (8 banks), mainly small joint stock banks. Binh cited a deputy who had said that restructuring banks is like spraying pesticide: pests must die and trees must live.
However, he said the banking restructuring plan could not be made public right now.
The governor said it is not true that Vietnam has an abundance of banks and small credit institutions that operate as unhealthy enterprises.
Binh said the short-term goal of bank restructuring is like building two local banks which are capable of competing in the region and 10-15 others that are big enough to be the pillars of economy. Other credit institutions may be accepted but they must operate in a healthy manner. The SBV will be interested in developing micro financial institutions to enable all people to have access to banking services.
About the banking restructure, Governor Binh said deputies should understand this process properly. It is necessary to restructure banks because the economy has entered a new phase and the financial system needs to develop more strongly, not because banks are weak.
In comparison with other countries in the world, Vietnam's banking system still stands firm during a crisis, Binh affirmed.
He also said that the process of banking restructure will ensure that by 2020 there will be 4 international standard banks competitive to a few of the biggest banks in South East Asia.