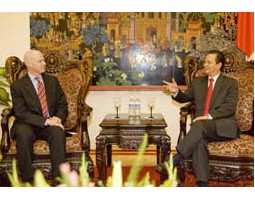 PM Nguyen Tan Dung talks with US Ex-Im Bank president James Lambright
Prime Minister Nguyen Tan Dung called upon the Export-Import Bank (Ex-Im Bank) of the United States to continue providing loans for the purchase of Boeing planes, and highway, airport and seaport infrastructure in the meeting with Ex-Im Bank President James Lambright yesterday.
"The Vietnamese Government will do its utmost to promote the development of the Viet Nam-US relationship in all fields, especially in economics, trade and investment," affirmed the PM.
The US Ex-Im Bank president told PM Dung that the purpose of his visit to Viet Nam is to seek opportunities to lend infrastructure construction projects.
He said that his bank is striving to enhance its relationship with Vietnamese businesses and ready to provide preferential interest rates to help Vietnam Airlines buy airplanes, build new airports in Ho Chi Minh City and the Dong Nai power plant.