Prime Minister Nguyen Tan Dung has called for rapid and sustainable development of the commercial banking system in order to come on line with world trends.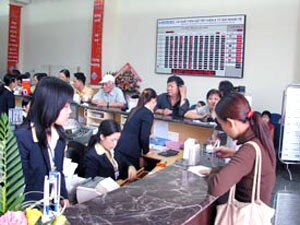 PM Dung urges development of the commercial banking system in order to come on line with world trends (Photo: T.C.)
The Prime Minister made the call at a banking conference held in Ha Noi yesterday, the day Viet Nam officially became the 150th member of the Word Trade Organization.
He praised commercial banks for creating profitable operations and upgrading their management systems to international standards and practices.
 
The PM said Viet Nam's move toward international economic integration and WTO membership requires the country to open markets, compete on an equal basis and issue regulations publicly and transparently.
 
Desire on the part of big international financial groups to make investments in Viet Nam will present both opportunities and challenges for Vietnamese financial firms and banks.
 
For the present, the PM called on commercial banks to sharpen their competitive edge, control risks, develop new services and list shares on the stock market to strengthen their financial portfolio.

The Government leader noted that the banking system needs to develop a sustainable capital market, expand new banks, create the right conditions for commercial joint stock banks to increase their capital and support them in human resource development.
 
PM Dung also used the opportunity to urge five State-owned commercial banks to become joint stock companies as soon as possible in order to increase their capital. He added, though, that the State will continue holding a majority of the shares.
He also urged the State Bank to assist the Government in setting national monetary policies on exchange and interest rates as well as controlling inflation in order to stabilize the monetary market.