Although the credit growth is low, many lenders say they still cannot strongly reduce interest rate due to many difficulties. Economists, meanwhile, warn slow lending growth rate and high interest rate will prompt to an abundance of dong.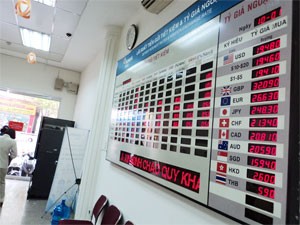 An electrical board at DongA Bank shows updates of interest rates. Lenders say they cannot reduce lending rate much due to a fierce competition between them (Photo: Minh Tri)
Vietnam's credit growth rate amounted to around 7 percent in the first seven months of the years - a low level compared to the government's cap of 20 percent.
Financial experts expect the low rate ushers in a falling interest rate. The state bank has announced rates on dong deposits show signs of retreating, dropping 1-2 percent.
Asia Commercial Bank or ACB has released a preferential loan pack worth VND2 trillion (US$100 million), which loan local exporters and big enterprises at the rate of 19.5 percent per annum, says deputy general director Do Minh Toan.
However, lending growth struggle to increase further as many businesses reduce operation due to a slumping number of purchase orders, Toan says.
VietA Bank considers slightly reducing lending rate to 19 percent per annum, an official from the Ho Chi Minh City-based lender, who asks not to be named, discloses.
"The loan cost cannot drop more as we pay high depositing rates," he says.
A deputy general director of HCMC-based HDBank, who wishes to remain anonymous, the low credit growth rate will force lenders to reduce interest rates.
Yet the reduction will not be so much due to a fierce competition between commercial banks, he says.
Financial experts warn that the low lending growth combined with high saving rates prompt to an abundance of dong.
The latest figures from the State Bank of Vietnam show the interbank interest rate has remains at low level since last month.
The state bank set the overnight rate at 10-10.5 percent per annum, one-week at 10.5-14.3 percent per annum, two-week at 13-15 percent per annum and one-month at 15-17 percent per annum.
High interest rate cools off investments in production sector, hinders the stock market and slows down the state-owed enterprises' equitization, says Dr. Tran Hoang Ngan, vice principle of the HCMC University of Economics.
ACB's Toan proposes to slash the rate on dong deposits to 14 percent per annum, which will force lenders to reduce lending rate to 17-18 percent per annum.
"The interest rate also declines on a stable gold price. The precious metal's price make large impacts on the economy as people favor stocking gold," Toan says.

"To reduce lending rate, the state bank should beef up the money supplying via the open market operation and cut interbank lending rate to 12 percent per annum from 14-15 percent per annum," says Dr. Le Tham Duong from the Banking University HCMC .