Lending interest rate has retreated slightly despite dropping depositing rate, leaving many businesses hesitating to borrow from banks.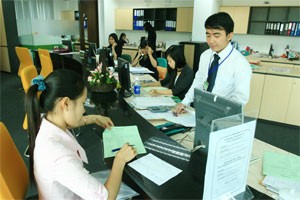 A woman fills credit application forms at a HCMC-based bank. Businesses still struggle to cope with capital shortage as lending rate remain high (Photo: Minh Tri)
High interest rate on dong deposits showed signs of cooling this month as inflation retreated and banks' liquidity was getting better.
However, statistics show lending rate for businesses has edged down to around 20-22 percent per annum.
Banks with credit growth rate of below the central bank's cap of 20 percent still charge individual borrowers at 25-28 percent per annum.
"The government retains the tight and cautious monetary policy in the last six months of the year. Therefore, interest rate will drop only on a declining consumer price index (CPI)," says Dr. Tran Du Lich, member of the National Advisory Council for Financial and Monetary Policies.
"Commercial banks look set to gradually cut expenses in order to reduce interest rate from this month. However, we cannot expect the rate to sharply decrease to 15-16 per annum."
Many lenders have admitted that the lending rate relied on the open-market-operation (OMO), Lich notices.
Do Lam Dien, deputy director of Maritime Bank, says the lending rate will hardly drop instantly since the bank earlier paid depositors high interest rates.
However, the Hanoi-based lender will offer corporations loans with preferential rates from now on to the rest of the year, including unsecured loans and asset mortgages, Dien says.
DongA Bank is considering cutting lending interest rates offered to regular customers, says Nguyen Thi Ngoc Van, deputy general director of the HCMC-based bank.
Figures from the State Bank of Vietnam show credit to agriculture, rural development and export sectors were gradually rallying at the end of last month, rising to around 20 percent per year from 16.5-17 percent per year.
Financial experts say although the liquidity was improved, lenders will be unable to boost credit growth since they already reached the government's cap.
Thus many banks, especially small-cap ones, are eager to offer long-term loans on the interbank market.
Small lenders are overtaking large ones to attract more depositors as they offer interest rates on negotiable basis, an official from Vietcombank, who wishes to be unnamed, discloses.
Depositors will hardly be attracted by depositing rate of 14-15 per annum as inflation reached 14 percent in the first six months, says Dr. Le Tham Duong from the HCMC Banking University.
The government has tightened monetary policy and set a series of targets to help stabilize an economy facing challenges including its struggling currency -- the dong -- and a trade deficit.
Among its goals, the government wants commercial banks to keep growth in credit, or loans, to below 20 percent this year.