Some commercial banks have quietly reduced the interest rate on dong loans for corporations. US dollar lending rate, meanwhile, has been pushed up due to a shortage of the greenback.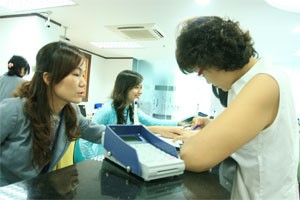 View at Korea-based Shinhan Vina Bank in HCMC (Photo: Minh Tri)
Eximbank allocated an outstanding credit worth VND2 trillion (US$100 million) with a preferential interest rate of 19.5 percent per annum to local exporters this month.
The six-month-term loan is meant to help exporters have enough capital to buy materials and cover production expenses, according to the Ho Chi Minh City-based lender.
The HCMC branch of Vietinbank followed a similar pattern, offering an outstanding loan worth VND2 trillion to exporters only.
Under the promotion package, the rate on dong and dollar loans will be 2 percent per annum and 1.5 percent per annum lower than the common rates.
Other banks including International Commercial Bank of Vietnam and Maritime Bank also reduce lending rate for corporate loans, including exporters and small- and medium-sized enterprises.
Banks have started to offer preferential credits to exporters as they loaned out previous years' amount, says a deputy general director of Asian Commercial Bank, who asked to be unnamed.
In return, exporters have to enter an agreement that they will sell dollars to the lenders, he discloses.
While large-cap lenders provide loans to local exporters, some small joint-stock banks start to offer big enterprises long- and medium-term loans.
Ocean Bank last week loaned PetroVietnam Petrochemical and Textile Fiber Joint Stock Company $21 million in one year.
Foreign lenders have edge in dollar credit
Many foreign-owned banks say the number of dollar borrowers is increasing on the fact that many enterprises struggle to borrow from local lenders.
Singapore-based United Oversea Bank, also known as UOB, meets the greenback lending demand of local enterprises, who want to buy materials from abroad, thanks to its oversea low-cost fund, says director Duong Minh Toan.
"Businesses favor dollar loans to import materials as the dollar-dong exchange rate of the free market and banks are equal and the rate on dong loans remains high," says Toan.
Many local banks have to raise their interest rate on dollar deposits by 0.1-0.25 percent to 7.5-8 percent per annum as they grappled to mobilize the greenback.
The monetary authority early in May ordered lenders to set aside more dollars as reserves. The reserve-requirement ratio on dollar deposits rose by 1 percentage point to a range between 4 and 7 percent.
The State Bank of Vietnam is considering a new rule that requires banks to reduce their dollar holding ratios to 20 percent of their equity from the current 30 percent.
According to a central bank's draft circular, all banks have to report their dollar holding status of the previous day to the State Bank on a daily basis. The central bank governor may consider allowing certain lenders to have more dollar holdings if necessary.