Nearly a third of the bank deposits in Viet Nam are in foreign currencies, according to a State Bank report, yet the Vietnamese dong earns a much greater rate of interest than, say, the US dollar.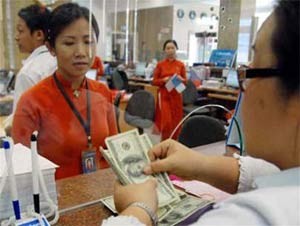 A customer makes a foreign exchange at a bank

At the moment a three-month term deposit in dong pays between 7.5 and 8.4 percent annual interest, whereas the dollar earns from 4 to 4.5 percent. Of course the benefit is eroded a little by the fact that the dong has weakened against the greenback over the past five years, but not to that great an extent.

If you deposit VND100 million in a three-month term savings account, at maturity you get back VND102.1 million in principal and interest. Doing the same with the equivalent in US dollars only gets the same as VND101.5 million. So keeping your money in dollars costs you VND600,000 in just three months.

Even though deposits in Vietnamese currency yield more, many people are unwilling to convert their foreign currency for fear that the interest rate for the dong will change adversely, despite a lack of evidence.

Statistics show that the dong paid an average 7.5 percent interest from 2001 to 2006, whereas the dollar earned 3 percent on average. Over this period, the local currency declined from VND15,081 to the dollar in 2001 to VND16,101 in late 2006.

As a result, if you deposited VND100 million in a savings account five years ago, you would now get back VND143.6 million, but only the equivalent of VND123.8 million if the deposit was in US dollars.

So, if you have some foreign currency, is it a good idea to swap them for dong before opening a savings account? The answer is more likely "yes" if you take geopolitical developments and major currency trends into account.

The State Bank has long been a major buyer of dollars and such, and there are now signs that foreign currencies are becoming scarce in the market. Owing to the need for foreign currency at year's end, the State Bank may not only stop purchasing it but could well start offloading the dollar to keep the dong stable.

That is why the interest rates for foreign currency savings accounts are unlikely to rise in Viet Nam. In fact they could soon go down as the US Federal Reserve will probably start cutting rates to ease the mortgage crisis in the United States.

Perhaps you think that the Vietnamese dong is more susceptible to inflation than the world's major currencies, and therefore not worth the risk.

The fact is that all currencies are losing value because of monetary inflation, not just Viet Nam's. Besides, foreign currency must be converted into dong before making most purchases in Viet Nam anyway, so why keep the former?

For a long time the dong has been relatively stable in terms of forex rates, declining only a little against the dollar, so a dong savings account makes perfect sense.

This is especially so when you consider Viet Nam's bright prospects for further growth and therefore wealth, factors that are certain to shore up and even strengthen the local currency in the years ahead.