Viet Nam's financial – monetary market has been under a direct influence of the rise of interest rates by the US Federal Reserve (FED)'s USD for the first six months. So far, most Viet Nam's banks have increased their deposit interest rates (IR) to keep their clients.
Capital on surplus, interest rates on the increase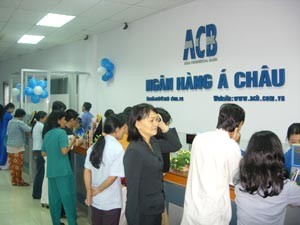 Vietnamese banks' capital mobilization increases continuously. (Photo: T.C.)
Although state-owned commercial banks have reached a consensus on interest rates such as 12-month-term floor deposit IR not higher than 7%/month and six-month-term one at 0.65%/month, many banks have broken the agreement.
Compared to early this year, VND deposit interest rates for all terms have increased by 0.06%-0.18% point per year, foreign currency IRs by 0.1%-0.5% point per year. Other IRs continued to be pushed up.
Many banks have also stepped up the issuance of deposit certificates such as bills and bonds with fascinating interest rates to attract deposits.
Understanding client's wishes, banks have launched promotional programs with large prizes and gifts offered to new clients or old ones who renew their deposit.
After nearly two months of launching phase one of the promotional program "Getting Excited with World Cup", the Viet Nam Export-Import Commercial Joint Stock Bank (Eximbank) mobilized around VND650 billion and VND816 billion for phase two (three months later).
Eximbank will increase individuals' deposit IRs in USD for all terms by 0.25%-0.6% point annually from July 3.
According to the Ho Chi Minh city (HCMC) branch of the State Bank of Viet Nam (SBV), the growth rate of credit activities in the city during the first six months shows a downward tendency compared to those of the previous years. Credit debt balance increased by 8.1% from early this year but by 15% in comparison with the six-month period year-on-year.
The continued high growth rate of banks' capital mobilization indicates the surplus of their disposable capital. However, IRs still sharply rise in the market.
State-owned banks' IR rises are understandable as there has long been an IR difference between state-owned and joint stock banks, causing a remarkable shift of sources of capital.
Many banks admit that at times they did not want to raise IRs, but in order to prevent clients from leaving them for other banks, they had to adjust their policies.
Competition in IR: good and bad
As predicted by experts, FED raised the basic IRs of USD by 0.25% point to 5.25% on June 29, 2006.
This is the fourth time FED raised USD IRs to curb inflation since early this year. Its IR rise will keep having pressure on Vietnamese banks, forcing them to adjust their USD IRs accordingly.
Domestic banks have by now raised their foreign currency IRs but these are still lower than FED's IRs. If banks raise their IRs soon, they will have an opportunity to mobilize capital at lower costs.
Banking circles judge that with the USD IR rises, the US dollar is gaining better advantages. The capital mobilization in foreign currencies will certainly increase strongly in late months.
On the other hand, increasing foreign currency IRs also put pressure on banks, forcing them raise IRs for Viet Nam dong deposits, unless they want to have a transfer from dong to foreign currencies.
In addition, according to rules, businesses will enter the peak period of production and business in late months, so capital demands from businesses and individuals usually increase sharply.
In order to meet capital demands, banks have to mobilize capitals by every means, and raising IRs is a measure usually taken by banks.
SBV still kept its key IRs unchanged in the first six months; among them, the basic IR was fixed at 8.25%/year.
However, banks' IRs for Viet Nam dong deposits and loans have increased by 0.12%-0.24% point per year; among them, loan IRs increase was lower than deposit ones.
Director of SBV's HCMC branch Tran Ngoc Minh said in general the big rise of mobilized capitals at banks is because of the Vietnamese government's appropriate policy adjustments, including the policy on raising deposit interest rates, which is aimed to curb inflation.
However, FED's IR rises will have a great impact on IRs in the country, especially VND IRs. Therefore, banks need to pay special attention to this issue through analyses and predictions to have better business performance.
"Competition is an impetus for banks' development now. However, IR competition to attract loans and deposit clients should be restricted because this will reduce the general efficiency of banking activities, causing damage to businesses and the economy," said Mr. Minh.