High interest rate on dong deposits showed signs of cooling off this month as inflation retreated and banks' liquidity was getting better. However, many others have still retained the rate at quite high levels.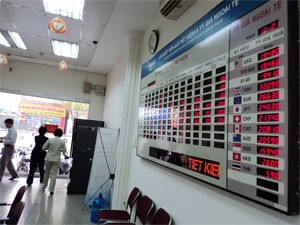 An electrical board shows interest rates at a HCMC-based branch of DongA Bank. Many lenders expect the interest rate race will continue to heat up as deposit growth remains slow (Photo: Minh Tri)
Among them is the commercial bank, located in Ho Chi Minh City's District 1, on Wednesday offered interest rate of 18 percent per annum to customers, who deposited from VND200 million (US$10,000) to VND1 billion.
An employee of the lender, who asked not to be named, told Dau Tu Tai Chinh Newspaper that the rate was applied for one-month-term deposits only.
The bank will then offer depositors rates on negotiable basis, he discloses.
Another bank, identified as T.N. only, has released a promotion pack, in which it will give cash bonuses to clients based on their short-term deposits.
The bank will be willing to offer a bonus of VND11 million to clients with a one-month-term deposit of VND1 billion ($50,000). Depositors will get the bonus after their deposit becomes mature.
A lender located in downtown of the city has violated the central bank's 14 percent ceiling on dong deposit rates, offering depositing rate ranging from 16 to 16.5 percent per annum on negotiable basis to customers with a deposit of VND200 million or more.
The State Bank of Vietnam in February officially recognized the rate cap of 14 percent on dong deposits, a ceiling that had been established earlier by the country's bank association.
All commercial banks have to publicly announce their deposit rates, according to a central bank statement last month. The rates, including perks and bonuses, are not allowed to exceed 14 percent, the central bank said.
Banks breaking the cap will be fined or have certain activities suspended, the statement said.
Stabilizing open-market operation
The state bank earlier this month cut the interest rate it charges for loans in open market operations (OMO) by 100 basis points to 14 percent, its daily OMO report showed on Monday, after the monthly inflation rate last month eased slightly from May.
The State Bank of Vietnam had raised the reverse repurchase rate in its daily open market operations by 100 basis points to 15 percent on May 17.
The annual inflation rate topped 20 percent in June, the highest since November 2008, but the monthly consumer price rise dropped to 1.09 percent compared with May,
after 2.21 percent between April and May.
Financial experts say the OMO rate reduction will help commercial banks to cut interest rate.
"The liquidity is getting much better now. Therefore, banks still offer depositors rates on negotiable basis just because they want to retain their clients," a director of a HCMC-based lender, who asked to be anonymous, disclosed.
However, many lenders expect the interest rate race will continue to heat up as the amount of deposits remains very low.
Figures from the state bank show the deposit growth amounted to below 3 percent in the first six months of the year, compared to last year's 11 percent.