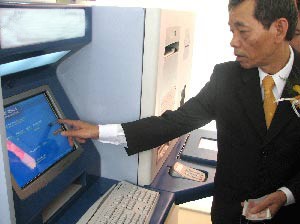 Many bank depositors can't withdraw money from automatic teller machines (Photo: Truong Son)
Bank depositors have been unable to withdraw money from Ha Noi automatic teller machines since Tet. Are the machines out of order or banks have not put money into the machines?
These machines, most of which are operated by Vietcombank, report incorrect account balances, or don't give back the bank cards after they are inserted in the machines, or say "sorry, the machine temporarily ceases operation."
 
"I couldn't withdraw money from any machines in front of my university yesterday," Thu Ha, an employee of Ha Noi National University of Education, said.
 
"Then, I had to go to the city center, but no one worked, not even those that were placed on big streets like Ba Trieu, Ngo Quyen, Hai Ba Trung, Ly Thuong Kiet, and Nguyen Du," she added.
 
Dinh Cuong, a tour guide in Hang Bac, said he needed money urgently yesterday but he couldn't find a working cash machine in the Bo Ho area.
 
"When I inserted the card into the machine, it said "error" and "please wait", however, I still couldn't access after waiting for from a half to hour," he said.
 
Cash machines on Quang Trung and Hai Ba Trung streets also had the same problems, he added.
 
"I don' know if there is money in those machines, but I am sure that no one can withdraw money from them," Mr. Cuong added.
 
It was forecast that cash machines would operate "smoothly" after Tet when demands for money will decrease. It is now early March, yet hundreds of machines are still not working.
 
Some clients said hundreds of machines have ceased operation not due to technical or system errors, but to serve a secret purpose of the banks. However, so far, there has no reply from the banks.
 
The interest rate on saving accounts has been raised to 12 percent while that on current accounts is only 0.4 percent.