The Investigation Police Agency under the Ministry of Public Security on Thursday announced their decision to prosecute four former officials of the Asia Commercial Joint Stock Bank (ACB), including former chairman Tran Xuan Gia.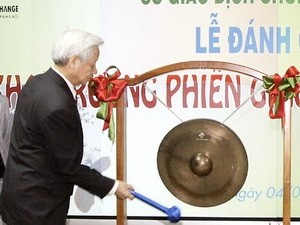 Tran Xuan Gia, former chairman of Asia Joint Stock Commercial Bank (File Photo: VNA)
The three others include Le Vu Ky, Trinh Kim Quang and Pham Trung Cang, the latter being former deputy chairmen of ACB board of directors.
Because of their sincere declaration and positive cooperation with the police, they are now out on bail but prohibited from leaving their residences.
According to the Investigation Police Agency, the above officials were related to Huynh Thi Huyen Nhu and her accomplices, who swindled and appropriated about VND719 billion (US$34.43 million) from ACB in Hanoi and Ho Chi Minh City. Nhu was prosecuted in September last year.
The four former bank officials directed ACB staff to illegally deposit bank's money in 29 other banks to enjoy a higher interest rate compared to the ceiling cap at the State Bank.
The deposit at the Vietnam Bank for Industry and Trade had been appropriated by Huynh Thi Huyen Nhu of a total amount of VND719 billion.
The above four ACB officials had violated regulations of the State Bank, which affected the Government's monetary policy and directly caused damage to ACB.
Gia, Ky, Quang and Cang were also accomplices of Nguyen Duc Kien and Ly Xuan Hai, co-founder and former director general of ACB, who had been arrested for intentionally violating State regulations which caused severe economic consequences.
The Investigation Agency said that Prime Minister Nguyen Tan Dung has instructed that those violating State regulations to usurp banks and cause disorder in the monetary policy should be severely dealt with.
Speaking at a press conference on the same day, Vu Duc Dam, Minister and Chairman of the Government Office, said that the prosecution of Tran Xuan Gia and three former ACB bank officials was part of a plan to clean up banking activities in the country.

Related articles:
Three leaders of commercial bank resign following arrest of tycoon