The State Bank of Vietnam (SBV) listed the Vietnamese dong to U.S. dollar exchange rate at VND21,907 on January 5, the second day that the new mechanism adjusting the exchange rate on a daily basis was applied.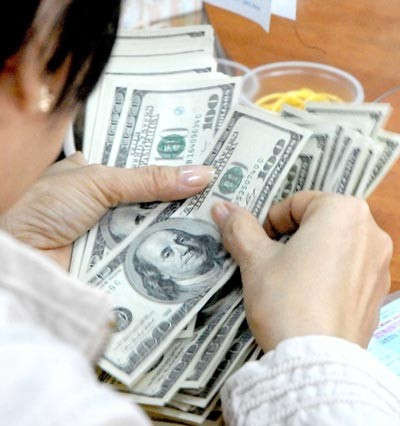 A bank staff counting greenback notes (Illustrative photo: SGGP)
It was 17 dong higher than the interbank exchange rate listed for the last four months and 11 dong higher than the previous day.
With the trading band of plus or minus three percent, official exchange rate in the market was permitted to increase to VND22,564 per dollar.
In accordance with the up trend of the central exchange rate, commercial banks slightly increased the dong to dollar rate on the first half of Tuesday. However, at the end of the afternoon, many suddenly reduced it by 10-40 dongs to fix buying price at VND22,435 and selling at 22,505 per dollar.
At the same time in the free market, dollar price also reduced by 10 dongs over the morning and 30-35 dongs over the previous day. One dollar was bought at VND22,610 and sold at VND22,625.
Mr. Nguyen Hoang Minh who is deputy director of SVB's HCMC branch said that despite of the central exchange rate increased of 11 dong, there were no fluctuations in the market on Tuesday.
The difference in dollar price between commercial banks and the free market was 50-70 dongs.
Banks have sufficient foreign currencies for the economy meeting legitimate capital demand of businesses and residents.
According to Mr. Minh, the state bank in HCMC has kept a close eye on the market and found it progress positively for the last two days when the daily exchange rate adjustment mechanism was applied.
The pressure on exchange rate increase has reduced due to many factors such as zero percent interest rate on dollar deposits, tightened trading of foreign currencies, and foreign currency loaning reduction.
After half a month since SBV lowered the interest rate on US dollar deposits to zero percent, the volume of dollar deposits has reduced too.
Statistics by banks show that 60 percent of due dollar deposits have been transferred into dong.
Those still keeping the U.S. dollar comprise people with children studying abroad or traveling overseas and businesses in need the greenback for payment.