Being a member of the ASEAN Economic Community (AEC) this yearend Vietnam has attracted a lot of foreign banks to open their subsidiaries or expand scales in the country.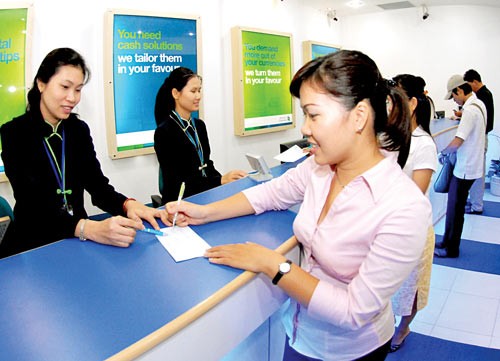 Standard Chartered Bank (Photo: SGGP)
Kasikorn--one of Thai leading banks set up two representative offices in Hanoi and Ho Chi Minh City early March.
The bank has revealed that they would continue opening more offices and branches in the country after getting licenses from the State Bank of Vietnam (SBV).
The same month, Malaysian Public Bank Berhad (PBB) was approved by SBV to take over all shares of the Bank for Investment and Development of Vietnam (BIDV) in their joint venture VID Public Bank and become a 100 percent foreign invested bank.
The deal will make PBB the sixth foreign own bank in the country after HSBC, Australia and New Zealand Banking Group Limited (ANZ), Standard Chartered, Shinhan Vietnam and Hong Leong Bank.
Previously, Singaporean DBS Bank Ltd and Malayan Banking Berhad (Maybank) has also opened their branches in Vietnam.
The Ministry of Planning and Investment has proposed the Prime Minister to task SBV to license Singaporean United Overseas Bank Limited (UOB) to develop its branch into a foreign bank as per the bank's proposal since 2008.
According to the ministry, Singapore is the third largest foreign investor in Vietnam with 1,405 projects and US$33 billion of registered capital. However there has been no Singaporean bank licensed to operate in the country.
Foreign financial institutions have so far opened over 50 representative offices, 50 branches, six banks and four joint ventures in Vietnam.
Besides, Ho Chi Minh City Housing Development Bank and South Korean Hana Financial Group has signed a strategic cooperation agreement right after the Vietnam-South Korea Free Trade Agreement was signed on May 5, anticipating a flow of Korean financial groups and banks into Vietnam.
Financial experts said that the extending operation of foreign banks will trigger a fiercer competition forcing local banks to improve their services and competitiveness.