Financial experts ask the state bank to categorize borrowers into two types – ones who are really in demand for loans to buy houses and speculators who focus on taking profits from price fluctuation - in an effort to stabilize the property market.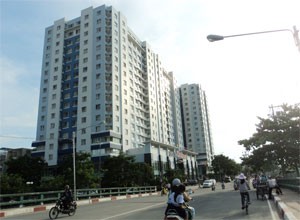 The state bank should categorize borrowers in two types – ones who are honest property investors and homebuyers and the others who just focus on speculating (Photo: Minh Tri)
Many financial experts and commercial banks have asked the state bank to make an explicit definition of non-production sector to help prevent the cap on credit to the sector from affecting businesses, which are really in severe shortage of fund for operation.
Yet, the state bank has not replied.
Experts say the credit restriction on property investments is appropriate amid the economic turmoil.
"Credit to property investment is mostly medium- and long-term loans, while 90 percent of banks' deposits are in short term," says a financial expert.
"Thus lenders will carry high risk of slumping liquidity if they beef up lending to property investors, who favor speculating over making investments."
The state bank should categorize borrowers into two types – ones such as speculators, who should definitely not be loaned, and honest investors and those who really want to buy a house to live, says Vu Thi Vang, vice chairman of DongA Bank's board of directors.
"There are still property projects that should be conducted, such as low-cost houses," Vang says.
"Thus we should not include property investments in non-production sector. Lenders should continue to loan projects, which are in 75-80 percent completion or have high liquidity.
"They should not provide loans for projects on site clearance and land compensation, which are mostly geared up to speculation."
The government should tax homebuyers to curb property speculation, instead of forbidding credit to property investments, Le Ba Truc from the Ho Chi Minh City-based VietA Bank proposes.
Truc also recommends that the state bank should rely on the capital adequacy ratio (CAR) to supervise lenders' credit to property investments.
"The move will force banks with high rate of lending to property investments to raise their equity in order to retain CAR," he says.
Pham Thien Long, deputy general director of HD Bank, says the number of those who can afford a house is low, while people with strong idle funds stand on the sideline of the market as they expect property price will fall further at yearend.
Individual investors, meanwhile, are unwilling to enter the market due to high lending rate and the state bank's cap on credit to property investment, Long says.
Lenders which have not reached the state bank's capping credit growth rate to below 20 percent this year are also not eager to loan property investors since the market remains stagnant, he adds.
 
Latest figures from the State Bank of Vietnam's Ho Chi Minh City branch show credit to non-production sector of lenders in the city amounted to VND130 trillion (US$6.5 billion) last month, equal to 17 percent out of the outstanding loans.