China said Saturday it could take up to three years for its exports to return to pre-financial crisis levels, as the Asian powerhouse shifted its focus to domestic demand.
"Our exports have just started growing again," commerce minister Chen Deming told reporters on the second day of the National People's Congress, the annual parliamentary session.
"We will need two to three years (for exports) to get back to 2008 levels."
China's exports were hit hard by the international financial crisis from the autumn of 2008, when worldwide demand dropped off.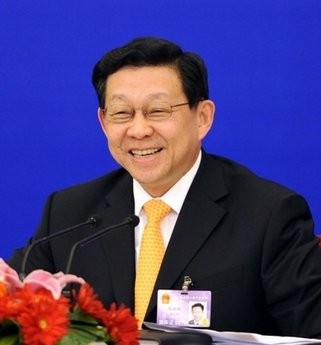 Chinese Commerce Minister Chen Deming is pictured during a press conference at the National People's Congress inside the Great Hall of the People in Beijing, on March 6.
Chen warned the world economy was not yet on a secure footing and it was "too early to say" demand for Chinese exports would grow this year.
"There has been some recovery in China's foreign trade value but there are still uncertainties," Chen said.
"China's recovery is fragile... and it is still possible for a double dip," he said, referring to the notion of a second recession beginning before an economy has fully recovered from the first.
Beijing announced a massive four-trillion-yuan (586-billion-dollar) stimulus package at the end of 2008, with much of the money targeted at large infrastructure and other projects aimed at boosting domestic demand.
Political leaders have called for more domestic consumption in part to lessen the economy's reliance on exports.
In 2009, exports fell 16 percent from the previous year to 1.2 trillion dollars, while imports dropped 11.2 percent to 1 trillion dollars.
December saw a return to export growth after 13 straight months of decline and China has now taken over from Germany to become the top global exporter.