The State Bank of Vietnam has hiked several key interest rates but narrowed the daily foreign exchange trading band.
With effect from December 1, the prime rate and recapitalization interest rate will go up to 8 percent from 7 percent and the discount interest rate to 6 percent from 5 percent.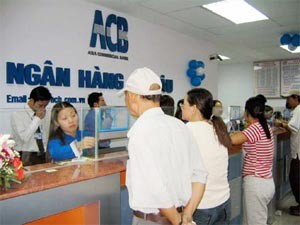 Customers at an ACB branch in Ho Chi Minh City. The State Bank of Vietnam has decided to increase the prime rate and other interest rates along with other measures it hopes will stabilize the market and sustain economic growth. (Photo: SGGP)
The forex band has been reduced to ±3 percent from ±5 percent with effect from November 26.
These measures are meant to cope with the volatility in gold prices and rise in the dollar rate, SBV governor Nguyen Van Giau explained.
Following the changes, the greenback fell by 3.44 percent to stand around VND18,500, he said.
But this does not mean the central bank wants to weaken the dong and it is only a measure to strengthen control over credit growth and enable commercial banks to raise capital, he said.
Other measures under consideration include a hike in import tariffs on some items, limiting import of some non-essential goods to contain the trade deficit, and requesting for some large economic groups to sell foreign currencies to the central bank, he said.
Besides approving these measures, the Prime Minister also agreed that the interest subsidy for short-term loans would cease as planned with effect from December 31 and not be extended to the end of March 2010, he said.
Asked about the recent slowdown in the stock markets amidst a fear of a devaluation of the dong, Mr. Giau said the ultimate goal monetary policy changes is not to serve any single market but to boost economic growth, stabilize the economy, create more jobs, and increase the income of all sections of people.