Bao Tin-Minh Chau Gold and Gem Company's 9,999 gold was traded at VND12.62 million a tael at 9AM, April 19. However, only two hours later, the gold price increased to VND12.94 million a tael, up VND74,000 over Tuesday.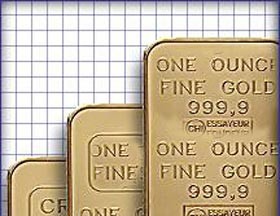 The domestic gold price broke its recent record as it rocketed to VND12.94 million a tael on April 19. (Photo:T.K)
More importantly, people rush to buy gold despite the marked increase of the domestic price.
Tran Thanh Tam, a gold consumer in Ha Noi, said he had been waiting for over two hours at the Bao Tin- Minh Chau Company but still could not buy the precious metal.
"Current political tensions in the world and a decline in the value of the Vietnamese currency are two major reasons for my purchase on gold for reserve," he added.
Meanwhile, the 9,999 gold price of Vietnam Bank for Agriculture and Rural Development (Agribank)'s Jewelry Company was at VND12.80 million a tael, up VND67,000 compared with that of the previous day.
In front of the company's main store located in Dinh Tien Hoang Street, around 200- 300 people queued up to buy gold on April 19.
"Up to now, our gold reserve has been sold out. Particularly, on April 18, we had sold up to 300 kg of gold," said Nguyen Thanh Truc, Director of the Agribank's Jewelry Company.
Mr. Truc estimated that the earliest delivery date of their next batch of gold (about 300 kg) must be on Friday, April 21.
He believed that the current situation of the gold price over these days is a "sudden increase", because the domestic gold price had been VND40,000 a tael higher than the global one.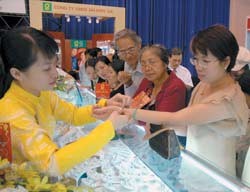 Despite the marked increase of the domestic gold price, more Vietnamese consumers rush to buy gold.(Photo:T.K)
According to Mr. Truc, Vietnamese consumers rush to buy gold due to their worry about the instability of many foreign currencies, as a result of recent political happenings around Iran nuclear issues.
"However, as a gold trader, I recommend the consumers to carefully observe the gold market rather than just rush to purchase gold like in the past few days," said Mr. Truc.
Speaking to SGGP Newspaper's reporter, Mr. Truong Van Phuoc, Director of the Foreign Exchange Management Department of the State Bank of Viet Nam (SBV), also agreed that local consumers should compose themselves under the volatile gold price.
"With the current exchange management policies, I believe that there is enough gold supply for the domestic demand," expressed Mr. Phuoc.
According to him, the SBV has recently granted permissions for local commercial banks and qualified gold companies to import enough gold. Besides, these organizations can also trade gold on overseas accounts.
Thus, a compatible balance between the domestic gold price and the global one has been created, said Mr. Phuoc.
Explaining why the domestic gold price is currently higher than the global one, Mr. Phuoc said gold imported into Viet Nam must bear the customs, processing and other relevant taxes.
"Consumers rush to purchase the precious metal because they have learned that the global gold price would increase to US$800 an ounce in the near future. However, I think that the Vietnamese consumers should not believe in this to avoid a gold rush in the domestic market," said Mr. Phuoc.
As recommended by the SBV, those who are really in need of gold can purchase it, while others can purchase the metal via gold option services, which are currently offered by commercial banks.