Commercial banks last week raised the foreign exchange rate of Vietnam dong and US dollar, while the interbank rate of the State Bank of Vietnam remained unchanged.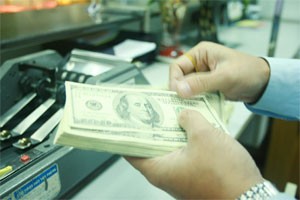 Banks raise the greenback exchange rate amid speculation that dollar will be stronger on the fluctuation in gold price (Photo: Minh Tri)
Vietcombank, the country's third-biggest bank by assets, set its dollar-dong exchange rate at VND20,680 for one dollar, an increase of VND80.
Other large-cap lenders including Eximbank and Asia Commercial Bank also followed a similar pattern, raising up their exchange rate to VND20,590 to VND20,630.
The increase surprises financial experts as the currency shows signs of stabilizing and no new relevant policy is released. The rising gold export is also expected to significantly boost the greenback supply.
According to the General Statistics Office, exports of precious stones and metals hit $1,027 billion in the first half of 2011. That compares to a full-year figure of $2,855 billion in 2010.
Vietnam had exported around 20 tons of gold this year through June 20, as local traders tried to take advantage of lower prices at home to boost shipments, news website VnExpress reported last month.
Banks raise the greenback exchange rate amid speculation that dollar will be stronger on the fluctuation in gold price, Phan Thanh Hai, an official from GiaDinh Bank told Dau Tu Tai Chinh Newspaper.
Dollar traders will likely to boost the exchange rate on expectation that domestic reserve of the precious metal is getting low due to heavy export, Hai says.
He also expects that investors will switch to dollar after cashing in on the surging gold prices.
"There are gaps between banks' dollar-dong exchange rates. However, the rate will be not highly volatile as lenders still have to adjust it in accordance with the central bank's regulations," Hai notices.
Lenders are coping with a shortage of dollars for lending, while struggling to mobilize the greenback, according to a deputy general director of the Hanoi-based International Commercial Bank of Vietnam, who asked not to be named.
"Banks have hardly borrowed dollar long-term loans from interbank since their outstanding loan reached the central bank's cap," he says.
The State Bank of Vietnam recently lowered its rate cap on dollar deposits, reducing the foreign currency supplies of many commercial banks.
On June 2, the central bank lowered its rate cap on individual dollar deposits from 3 to 2 percent and cut the cap for banks from 1 to 0.5 percent.
A stabilized currency market has allowed the central bank to add $1.2 billion to its foreign exchange reserves on May. The bank had already purchased $877 million during the first four months of 2011.
The central bank also reduced its repurchase rate to 14 percent from 15 percent on July 4 after a spate of increases since November to fight inflation.