Physical cash is still king in Viet Nam but the government is trying to reduce the almost universal preference for the hard stuff by paying its officers' salaries straight into their bank accounts from next year. With millions of potential customers from this fresh source, the banks are in hot pursuit.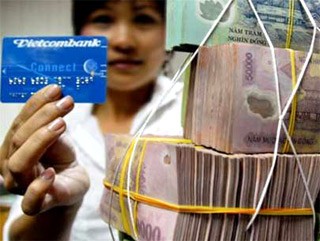 Government employees will receive their salaries through bank accounts from next year
A new directive from the prime minister says that employees of ministries, central people's committees and other government agencies will receive their pay through the bank from January 1, 2008.
 
In response, the bankers are touting their services to every government department covered by the directive and even showing current and retired state officials, many of them getting on in years, how to use an ATM card.
 
Dong A Bank has formed a team to advise government employees about the direct payment system and show them how to use it. The bank's staff are even driving retired officials to the closest ATM to show them how to use the machine.
 
Cao Van Sang, deputy director of the Ho Chi Minh City Social Insurance Scheme, says there are 90,000 pensioners and other welfare recipients in HCMC who receive VND100 billion (US$6.25 million) a month all up. Payment through a bank account, he says, will benefit both the beneficiaries and his organization.
 
The banks will gain several million more customers, the credit operations director at one bank says. They will collect fees not just from the transactions, but also from other services that the account holders might use.
 
"If clients can be well served, they will think of making a deposit, borrowing some money and maybe using other bank services," he says.
 
Still, it's not easy for a bank to convince a government department to use its services. They have to chip away for months trying to convince a people's committee or state department to open an account.
 
For one thing, the fees are a real turn off; they've always sent someone from accounting down to the treasury office to pick up everyone's pay, and there are no fees attached to that.
 
Some banks are responding by offering a "three-no's" payment service for cardholders, meaning no initial fee, no transfer fee and no annual maintenance fee.
 
"We know that it is not profitable to work with state agencies, and we must be prepared to cater to all their extra demands," says one banker. "It's political in a way. If we can gain their trust, enterprises will trust us too."
 
In order to encourage the use of cards, the banks have decided to use their profits from corporate work to subsidize their direct pay service for government departments.
 
Oddly enough, another banker says direct pay is "very profitable as the employers pay all the fees for their employees" (the initial fee of VND100,000 (US$6.25), the transfer fee of VND2,000 to VND4,000 each time, and the annual fee of VND50,000). 
 
Beside the three no's, banks are planning to let government officers borrow up to the equivalent of their pay over three to five months.
 
Trinh Thuong Thuc, who runs Vietcombank's card services department, says the enticements are not the deciding factor. "The most important thing is the quality of our service, our ATM network and our fees. Customers can use another bank if it's more convenient and they can enjoy many additional services."
 
Tran The Nam, director of the Asia Commercial Bank's ATM Center, says the banks are trying to let their customers know that a bank card is not just a convenient way of getting their pay; it can also be used for other things.