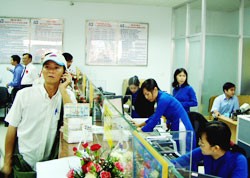 Commercial banks will not be allowed to lend to affiliate securities companies.
In an attempt to curb commercial banks from high risk speculation, the State Bank of Viet Nam (SBV) has put forward a new provision preventing commercial banks from lending to affiliate securities companies.
The new provision, included in a draft to amend Decision 457/2005/QD-NHNN dated April 19,2005, stipulates prudential ratios in the operations of credit organisations.
However, commercial banks have the right to lend to securities companies that are not affiliates on mortgages.
According to an official from the state bank, since regulations governing loans to securities companies affiliated to commercial banks were absent, the new provision would enable closer governance and keep banks from high-risk securities trading.
With commercial banks having abundant information and strong financial resources, securities speculation by banks through affiliates would result in unfair competition among investors, he added.
Since the SBV views securities trading as very risky, which may threaten the whole banking system, the provision would help to tighten securities trading by banks.
According to another official, the provision would cut down cash flows from banks into securities trading.
Under the Law on Credit Organisation, commercial banks have the right to set up securities companies but their operations must be independent, said a representative of the legal department under the SBV.
The move was necessary as the nation's stock market was over heating, said Le Dac Son, general director of the Commercial Joint Stock Bank for Private Enterprises (VP Bank), adding that the bank had decided not to fund its securities company.
Before the new provision, banks had often provided credit to affiliate securities companies on preferential terms and interest rates.
The provision is based on the international standard Basel II, a comprehensive measure to align capital requirements more closely with underlying risks facing the banks. The draft was submitted to the governor of the State Bank on Dec. 29, 2006 and scheduled to be ratified in January.-