State Bank of Viet Nam Governor Le Duc Thuy has given instructions for the banking industry in 2007.
Accordingly, banking missions include operating flexible currency policies, ensuring the monetary stabilization, controlling inflation, promoting economic growth, maintaining interest rates not higher than the rates in last year and fluctuation of exchange rates at a reasonable level aiming to avoid the transferring of local currency into foreign currencies.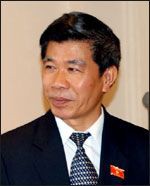 Mr Le Duc Thuy
According to the evaluation of the State Bank of Viet Nam, last year the interest rates on the VND of credit agencies rose by 0.25% per annum in comparison with the end of 2005.
Early 2007, the mobilizing interest rates of commercial joint stock banks were adjusted, creating a new competitive pressure on interest rates.
Accordingly, Techcombank adjusts its e-saving interest rates in VND and US$. Saigon-Ha Noi Bank has increased the mobilizing interest rates on the VND and US$. ABBank has increased the US$-saving interest rates with an increase of 0.1-0.25% per annum for the periods of 1, 2, 3 and 6 months. G-Bank has also made an increase of interest rates of the VND on saving deposits at an average increase of 0.04%-0.3% per annum.