Dong deposit growth of commercial banks remains low although people favor deposits in the local currency over ones in US dollar, say financial experts.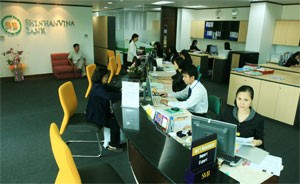 View at ShinhanVina Bank in HCMC (Photo: Minh Tri)
Figures from the State Bank of Vietnam show deposit growth rate of 16 lenders in Ho Chi Minh City rose slightly below 2 percent in the first six months of the year, of which dong deposit growth rate edged down 0.7 percent and the greenback moved up 7.5 percent.
The decline came from the fact that enterprises hesitated to deposit their capital, director Ho Huu Hanh of the state bank's HCMC branch says, adding that the dong deposit growth of individual still increased 13 percent.
"Efforts to weather the economic slowdown have seen local businesses favor their working capital over bank loans," Hanh told Dau Tu Tai Chinh Newspaper.
In the first two quarters of 2011, dong lending growth increased 2.14 percent only, while the growth rate of dollar credit surged nearly 19 percent, according to the state bank's HCMC branch.
"Enterprise still favor dollar loans, which have lower cost than ones in the local currency," says a financial expert.
Even banks whose credit growth remains below the central bank's cap this year are unwilling to provide loans since they struggle to mobilize fund, says a director of a HCMC-based lender.
Therefore, they hesitate to reduce lending interest rate, which has topped 22-25 percent per annum so far this year, he adds.
The state bank in February officially recognized the rate cap of 14 percent on dong deposits, a ceiling that had been established earlier by the country's bank association.
The rates, including perks and bonuses, are not allowed to exceed 14 percent, the central bank said.
Banks breaking the cap will be fined or have certain activities suspended, the central bank says in a statement posted on its website.
Early this week, some banks released promotion packs in an attempt to pay depositors at interest rates, which are higher than the central bank's cap, while others still offered depositing rate on negotiable basis.
Credit to non-production sector

According to the state bank, all banks in HCMC cut their credit to the non-production sector to 22 percent of total loans on time in accordance with the state bank's regulation
The state bank has ordered all lenders to cap credit to the non-production sector at 22 percent of total loans by June 30, and at 16 percent by the end of the year.

The central bank said it will double reserve requirements for banks that fail to curb their credit growth and continue to lend to non-priority sectors.
Credit to non-production sector of 16 HCMC-based lenders amounted to nearly VND89 trillion (US$4.45 billion), making out of 18 percent of the total credit, according to the HCMC branch of the state bank.
"Lenders failing to meet the rate regulated by the central bank will grapple to receive permit for branch network expansion and subsidiary establishment," says Hanh.
"Thus they had to do their best to reduce their credit to non-production sector."