Vietnam imported 6,000 automobiles in January, a figure showing 1,000 less automobiles than last year according to the National Statistics Office.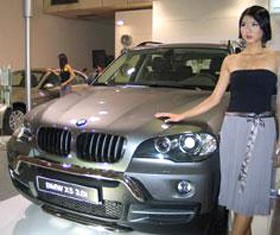 Imported cars displayed at an Auto Tech show
Despite the decrease in imports this month, the annual figure showed an increase of 95.3 percent.
 
During the last three months of 2010, the country imported 4,600 automobiles worth US$80 million, 5,500 worth US$93 million and 7,000 worth US$115 million.
 
Nearly 10,000 motorbikes worth US$14 million were also imported showing a decrease of 17.4 percent.
The increase in automobile imports was caused by a cut in the import tax that came into effect at the beginning of the year.
Effective from January 29, the General Department of Customs has announced new car tax rates which will see a further increase from one to six percent.
The minimum tariff to be applied by customs will generally increase from US$500 to US$1,500 against that of last year. Some automobiles, such as the five seater Toyota Corolla model will be subject to a new tariff of US$11,000 replacing the current tariff of US$9,500.
Traders remain optimistic about the market recovery in 2011 after it saw a sharp dip in 2010, when the automobile market was also strongly affected by the global recession.
The Vietnam Automobile Manufacturers' Association reported that last year 150,000 units were sold in the country, an annual decrease of 17 percent.
The reason for this dip is being explained as the result of tax policies and a fluctuating currency along with high interest rates.