The Asia Commercial Bank says it has made a total gross profit of VND682.4 billion (over US$42.4 million, current rate) last year, up 77.21% on the year before.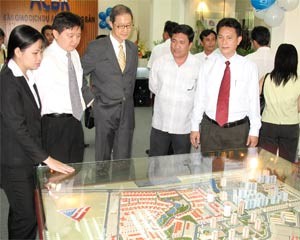 Property developers sound out investment opportunities the ACB Realty Center in Ho Chi Minh City (Photo: Tuong Thuy)
The Ho Chi Minh-based bank, whose trading names is ACB, in early 2006 set the year target of gross profit at VND555 billion. However, performance was VND127.4 billion.

An ACB report released on Monday says the bank's total deposits last year rose by 77% to VND39,548 billion (about US$2.459 billion), and total loans increased by almost 79% to VND17,116 (about US$1.06 billion). The reported figures have not been audited yet.
The results came from the bank itself and its two wholly-owned companies, ACB Securities and ACB Assets Management.
With the performance, ACB plans to pay a dividend yield of 38% to its shareholders, comprised of 30% in shares and 8% in cash. However, the annual shareholders' meeting will vote for the dividend yield, which must in turn be approved by the State Bank of Viet Nam.
ACB started listing its shares on the Viet Nam stock market in November last year, becoming the second bank in Viet Nam joining the securities market after Sacombank, also based in Ho Chi Minh City. ACB currently has 80 branches, transaction and service points nationwide.
ACB and Sacombank are among leading banks in Viet Nam, whose banking industry is seeking to better compete against growing international competition as the country joined the World Trade Organization last November. As a WTO member, Viet Nam will allow more foreign banks to set up branches and provide many more financial services.