Analysts are predicting that 2014 will be a more successful year for the Vietnamese real estate market, after the year began with an increase in the number of apartment transactions.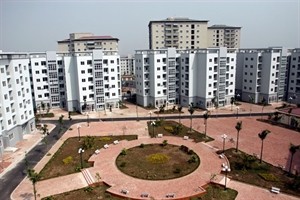 The Viet Hung urban area in Long Bien district, Hanoi (Photo: VNA)
In the first weeks of the year, several real estate transaction centres in Ha Dong and Linh Dam saw a remarkable increase in the number of customers seeking to buy apartments and houses costing from 1-2 billion VND.
With many measures taken by the government to solve difficulties facing property enterprises and efforts made by businesses in recent times, the real estate market is recording positive changes after a long spell in the doldrums. The liquidity of the market has increased once again, especially for apartments.
Thanks to the rosier picture, the inventory level has so far reduced almost 25 percent compared to the first quarter of 2013.
The price of housing has dropped sharply compared to the period between 2008-2010, with many projects having prices cut by 50 percent, returning to the 2006 price level.
The department said that the price of apartments in Hanoi will be stable this year, especially following a series of social housing projects and small and medium-size housing construction, while the real estate supply will be more abundant.
Under a programme on social housing before 2015, approved recently by the government, as many as 125,000 apartments are expected to be built in Hanoi.
The city has recently finished 18 major residential projects, with eight others to follow in 2014-2015.
The main supply sources of low-cost housing in Hanoi are now the Dang Xa 2 project in Gia Lam district, the Sai Dong-Rice City Song Hong project in Long Bien district and the Tay Mo- North Co Nhue project in Tu Liem district.
In addition, several developments of middle-class apartment buildings, including Kim Van-Kim Lu, Van Phu-Victoria and Trung Van-Vinacones 3, are also attracting the attention of customers.