The An Giang Agricultural Technology Service Company (ANTESCO) has been awarded the Global Standard Food Certification of the British Retail Consortium (BRC).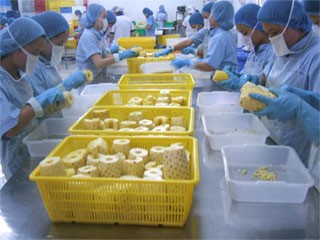 Cleaning pineapple for canning and export at the Antesco
The company had adopted and implemented the Hazard Analysis and Critical Control Points (HACCP) system and the application of quality management ISO 9001:2000 besides environmental standard requirements.
ANTESCO owns two factories producing frozen and canned tropical vegetables and fruits such as baby corn, pineapple, green soybean, okra, straw mushroom, chilies, taro, mango, papaya, dragon fruit and jack.
The company exported 6,755 tons of frozen and canned vegetables and fruits for US$5.65 million in the first eight months of the year.