The trade relations between Viet Nam and countries in Africa are increasingly developing. Viet Nam's import-export transactions with those countries are increasing, especially exports. In Viet Nam's total export turnovers to African countries in 2004, its textile-garment export alone had a high rate of 5.3%, increasing to 7.6% in 2005.
Export turnovers to those countries have been higher year by year. For instance, Viet Nam's total export turnover reached US$250 million in 2003, US$412 million in 2004 and US$660 million in 2005.
Viet Nam's imports from African countries have also increased year by year, but not as quickly. The total import turnover was US$150 million in 2003, US$166 million in 2004 and US$210 million in 2005.
In the near future, the Ministry of Trade of Viet Nam will have a working visit to African countries. This will be an opportunity for Vietnamese businesspeople to expand their cooperation and business relations to a big market of over 800 million people.
Although textile-garment turnovers to Africa are small in comparison with Viet Nam's total export revenues, optimistic signals early this year show a fast growth of Viet Nam's textile-garment exports to this market in the coming time.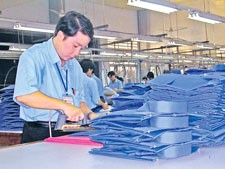 Shirts are ironed before packaging for export (Photo: SGGP)

An exporter who has just tried to penetrate the African market remarks that this market was wrongly thought as an easy market requiring an average quality. In reality, many importers require not only high quality but also good design, high-quality materials and famous trademarks.
With good knowledge of business doing, exporting textile-garment products to Africa will be profitable, said Mr. Uong Tien Thinh, Director General of Ho Chi Minh City Trading and Service Company under the management of Viet Nam National Textile and Garment Corporation (Vinatex). And the products use materials produced in Viet Nam by such Vietnamese enterprises as Phuoc Long Textile Company, October 10 Textile Company, Trinh Hao Textile Company, like those for mosquito-nets which are sold at a reasonable price.
Buyers have also explored many other products such as bed draps and jackets made by such textile companies as Thang Loi, Viet Thang, Phong Phu, March 8, Hoa Tho.
In early months of 2006, Viet Nam's textile-garment export turnovers to African countries have experienced a sharp year-on-year rise. Mosquito-nets have had a high export turnover of over US$4 million, a four-time year-on-year increase. Additionally, bed sheets, shirts, jackets, children clothes and windbreakers are also exported to Africa.